In the initial days of the lockdown, there was a sharp spike in the sale of sanitizers in the market as panic-buying resulted in a shortage of sanitizers and masks. To combat the huge demand-supply gap, the prices of sanitizers increased manifold, until the government stepped in and capped the prices of these essential commodities.
Sanitizing and disinfecting the surface to kill the coronavirus is one of the best preventive measures, according to health experts. In this context, DigitEye India received the following video on WhatsApp for fact check as it was going viral on social media platforms.
Fact Check:
The video is from Naya Raipur, Chhattisgarh where a car is seen burning up in flames in front of the state government administrative building called Indravati Bhavan. The incident took place on May 20, 2020.
We went through Chattisgarh-based publications to figure out the actual cause of the fire. While the cause is still unknown, some tweets have mentioned that the fire erupted after the owner of the car sanitized it by spraying sanitizer which caused the car that was standing in the scorching sun to erupt in flames.
Some news publications have carried the story with the same explanation here and here.
Sanitizers Behind Cars Catching Fire?
Sanitizers are either alcohol-based or non-alcohol based. Alcohol-based hand sanitizers are preferred because alcohol acts as a disinfecting agent killing the microorganisms. A basic hand sanitizer, thus, contains 60%-95% alcohol component making them come under inflammable substances, as per the basic standards followed while manufacturing them.
In fact, many such claims have been made in various parts of the world that sanitizers in cars cause fire. It became obvious when Western Lake Fire District wrote a now-deleted Facebook post on the same as below: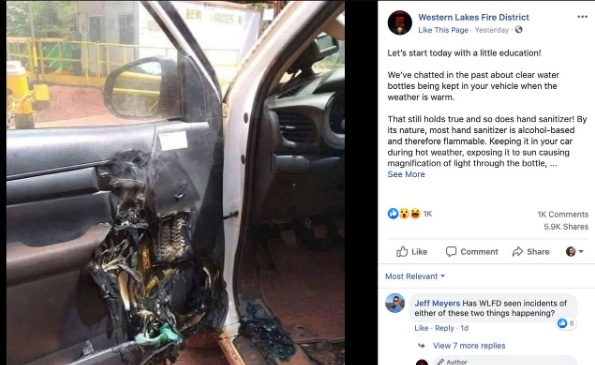 According to some fact checks listed in Poynter, the image of the burnt car door wasn't from a hand sanitizer fire in a Wisconsin vehicle but based on a Thai newspaper report about two Saudis who set their door afire with an aerosol can and a lighter.
A study by Arizona State University, however, clarified that cars parked in triple-digit summer heat found temperatures topped out around 160 F (71.11 C) but found that a car would need to reach an internal temperature above 300 degrees Celsius (572 degrees Fahrenheit) to cause hand sanitizer to combust. Most vehicles can only reach 160 degrees, which is  hot enough to injure or kill people and animals but unlikely to ignite such huge fire in a car, it said.
The plastic bottle of sanitizer absorbs the heat which can lead to the alcohol component losing its efficacy. While they can cause fire, the intensity will be smaller than the one seen in the video. Unless accompanied by a spark or very high temperature flame, they cannot on their own lead to such fire seen in the video, said the study.
Conclusion: Our rating ? — Exaggeration.