Apt for its timing, a letter claimed to have been written by Prime Minister Narendra Modi is doing the rounds on social media urging citizens to buy only Made in India crackers for this Diwali. See the message below that has been widely shared on Twitter and Facebook: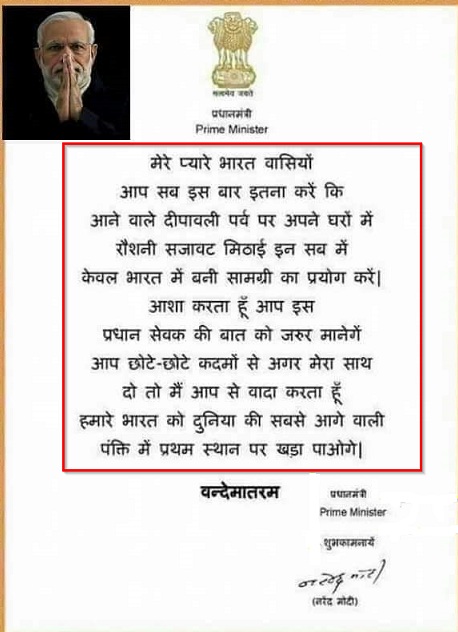 The text in image has no alignment, line space raising doubts if it could ever come from the PMO. The signature could have been easily copied from elsewhere and pasted on this image.
Above all, no Prime Minister would ever send out such a letter in contravention with the government stand to allow FDI and create an atmosphere of fair play in the markets.
When Digiteye India searched for the image, Google Reverse Image search threw up similar letter that was circulated way back in 2016 on which PMO had clarified on social media in October 2016. Here's the original clarification tweeted by PMO:
Few appeals with PM's 'signature' are circulated on social media. Such documents are not authentic. pic.twitter.com/9AOcvHStFu

— PMO India (@PMOIndia) August 31, 2016
Conclusion: This letter is obviously false and totally false by our rating with five question marks ?????.