Every time we celebrate the Independence Day on August 15, invariably there will be many more claims that Indian Independence Day or Republic Day was  celebrated by foreign countries too to claim that they observe it with admiration for India. The trend has been consistently witnessed on social media in the last ten years and Digiteye India had  debunked it in detail earlier this year.
Within two days after August 15, a 45-second video was published in a Twitter post with a caption that reads:"Request everyone to watch this 1 minute video without miss. This is an amazing forward from Trafalgar square, London during the celebration of India's Independence Day.Jai Hind"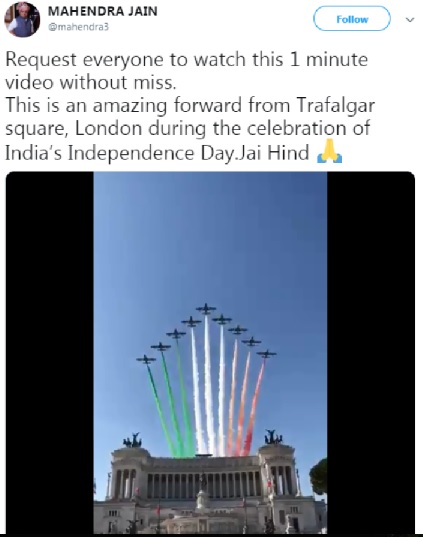 It was shared on Twitter by one Mahendra Jain using the twitter handle @mahendra3. Such claims have become usual on social media and see last year's claims on the same occasion HERE.
Fact Check
The first claim that the venue was Trafalgar Square in London was wrong. In Google Reverse Image search, the building reveals that it was not in London but in Rome. Secondly, the flags in the background indicate that it was in Italy and the building is in Rome's Piazza Venezia where the occasion was Italian Republic Day celebrations. The video also shows a squadron of fighter jets emerging behind the building and leaving trails of coloured smoke, which coincides with the Tricolour of India too.
Here's a visual on Indian tricolour versus Italian flag. Both have tricolour but used horizontally in Indian flag and vertically in Italian flag. Since the video showed aerobics in tricolour smoke, the colour differentiation fails to catch human eye immediately. Indian tricolour uses saffron while Italian flag has red.
Conclusion: The video has been shared by more than 1,000 users on Twitter with a wrong claim that is grossly misleading. Our rating is ??? Misrepresentation.