Amid a hyped spirit over the abrogation of Article 370 of the Constitution, Bharatiya Janata Party Rajya Sabha MP Vijay Goel from Delhi has gone a step ahead to put up a poster claiming it to be of a Kashmiri woman in support of it, just in front of his official residence.
Later, he tweeted on August 8, taking an amage of the hoarding and a caption in Hindi that reads:"धारा 370 का जाना तेरा मुस्कराना " which means "You are in all smiles as article 370 has gone!" See the tweet here:
धारा 370 का जाना
तेरा मुस्कराना pic.twitter.com/enYlpUBmks

— Vijay Goel (@VijayGoelBJP) August 8, 2019
When Digiteye Team checked for the image in Google Reverse Image, it threw up older photos of the same woman, wearing a pheran and smiling. It has been used prominently on "Zeero Kaata" website of a studio on Kahsmiri jewellery on June 6, 2018.
However, this is not the original owner of the photograph but the original person who had used this picture was Rajesh Pusalkar, a blogger, way back in 2014 in his blog rajeshpusalkar.blogspot.com, which can be reached at this link: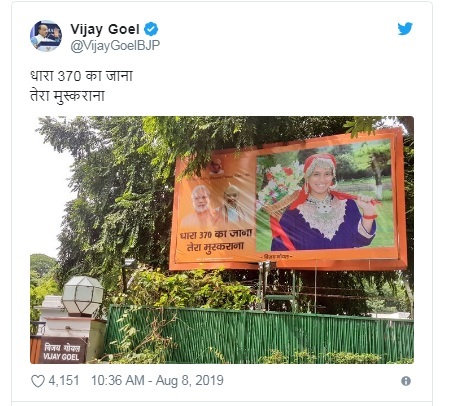 In 2014, he wrote about his trip to Kashmir and the photograph of the woman was apparently of not a Kashmiri but of a tourist. It is common for all women tourists to put on pheran that is on lease at studios and give a pose for photos.
Conclusion: Vijay Goel has used an old photo with a caption that never fits the description, making it a fake tweet on the social platform. Our rating of the claim is totally false ?????.