In the Lok Sabha elections concluded recently, Congress President Rajiv Gandhi contested from Wayanad in Kerala, though he lost in Amethi constituency in Uttar Pradesh.
Social media was abuzz on the day of results on May 23 with some tweets claiming that the Congress president had won in Kerala with a record 8,54,297 votes, highest of all the 542 constituencies which have gone for voting.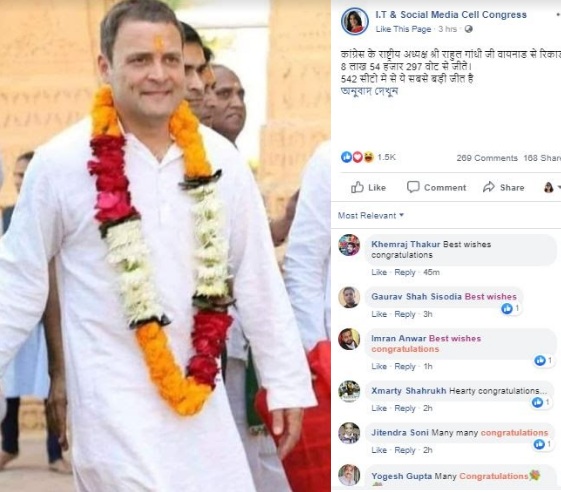 Ramesh Sharma Sanghaner has posted it on his Facebook page (top image), which was shared by many including one Facebook account of the IT and Social Media Cell of Congress, which was not an official Congress Party account. (These images have been removed now from Facebook).
However, as per the final records, Rahul Gandhi has not won with a victory margin of over 8 lakh votes from Wayanad as claimed in the message. The votes polled to the Congress president in Wayanad, according to the official figures of ECI on its website, are 7,06,367. In the second place, the CPI leader P.Pudar Sunder received 2,74,597 votes. So, Rahul Gandhi's margin was 4,37,770 votes more and not 8,54,297 as claimed. See the EC website screen grab here:
Rajiv Gandhi did not win Wayanad with a record majority as claimed. He is not the contestant who scored highest majority in the Lok Sabha elections of 2019 either. BJP's CR Patil from Navsari in Gujarat secured the highest victory margin in the 2019 Lok Sabha election defeating his nearest rival Dharmesh Bhai Bheembhai Patel by 6.89 lakh votes.
Conclusion: Our rating of this claim is ??? Misrepresentation.