A photo showing PM Narendra Modi bowing to allegedly a woman identified as Priti Adani, wife of Gautam Adani, chairperson of Adani Group is making rounds. The caption read in Hindi: "देश की बागडोर एक नई जमात ने संभाली है. (A new group has taken over the reins of the country). The image is being shared on social media platforms — Twitter and Facebook. The claims varied differently saying the woman in the picture is Ms Adani.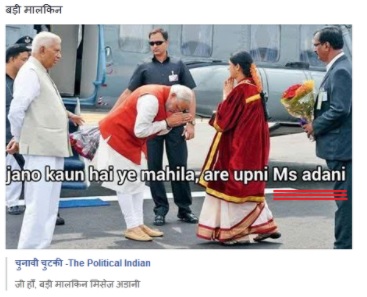 Fact Check
When Digiteye India received the image for fact check, we did a Google reverse image search and it soon revealed that the picture was correct but the claim was incorrect. At the first glance, one can see the woman wearing flowers which are worn by women in the south and not in the north or in Gujarat.
The woman in the photograph was actually the Mayor of Tumakuru city near Bengaluru, who received PM Narendra Modi who arrived in the city on Sept. 24, 2014 to open a food park. Secondly, the gown worn by the woman indicates that it was the official gown worn by mayors in Karnataka during the official functions.
Moreover, the original photo was shared on Twitter by one Rahul Kaushik, who identified the woman as Geeta Rudresh, then mayor of Tumkur. The image was also published in a news report the next day on Sept. 25, 2014.
This is how PM @narendramodi greeted Tumkur Mayor Geeta Rudresh when she came to welcome him. pic.twitter.com/cdrpS3Xpo2

— Rahul Kaushik (@kaushkrahul) September 25, 2014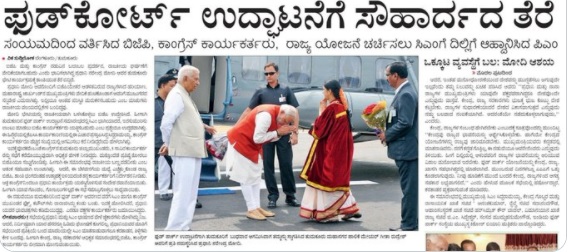 This image has been surfacing frequently since 2014 with a false claim that PM Modi was bowing to the chairperson of Adani group, which is totally false.
Claim:  Image showing PM Narendra Modi bowing to Priti Adani, wife of Gautam Adani, chairperson of Adani Group.
Conclusion: No, PM Modi was bowing to Tumukuru city mayor in Karnataka during his Sept. 24, 2014 visit to inaugurate food park.
Our rating is Misrepreentation —