A video of massive snow rock falling down from a mountain with a claim that it was after the glacier bust in Chamoli, Uttarakhand is going viral ever since the tragic glacier burst on Feb. 7, 2021. The caption in Hindi said, "Video of glacier breaking off in Uttarakhand's Chamoli" and the sound of onlookers yelling with fear is also heard.
The video was put out soon after the avalanche caused by Nanda Devi glacier break that resulted in flash floods and even washed away hydroelectric stations and a tunnel under construction. More than 170 people are missing in the tragedy.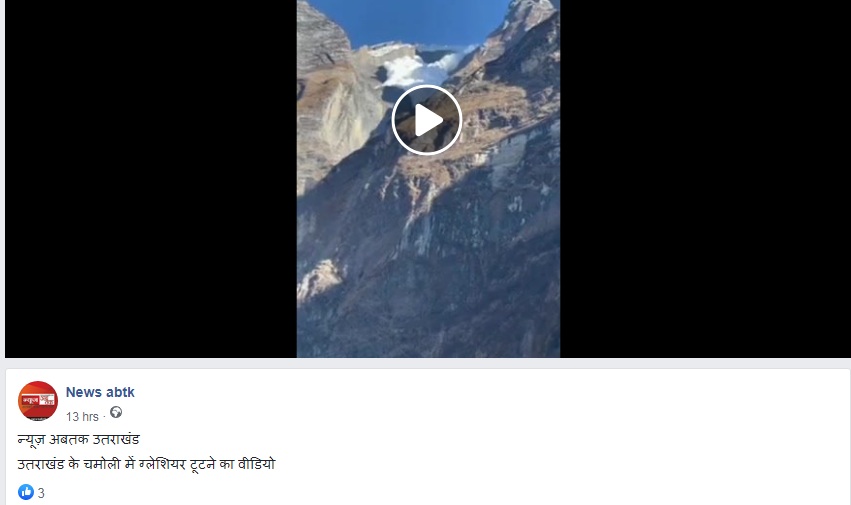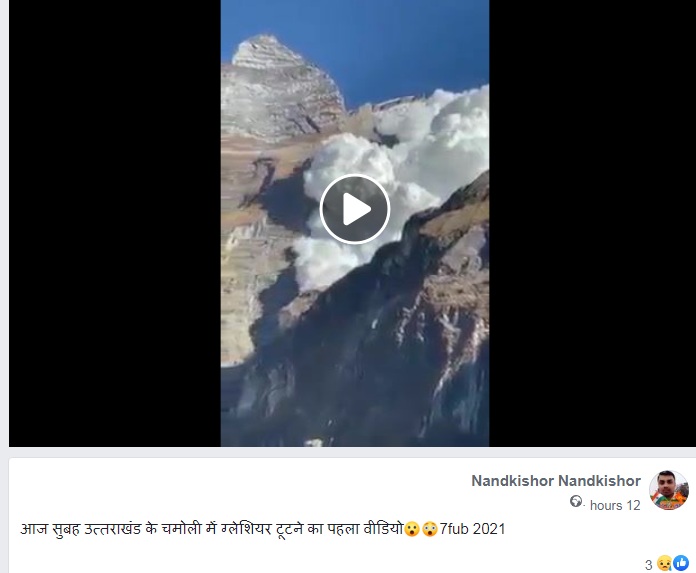 It was widely shared on social media here and here. Since the video came soon after the Uttarakhand glacier burst with a claim that it was one of the first visuals released on social media.
Fact Check
Digiteye India received a request for fact check and when the team started checking its authenticity using the InVid tool, it revealed that the video was one month old. This video belonged to an avalanche at Kapuche Glacier Lake in Nepal in January 8, 2021. Shared by an Instagram user on Jan. 9, 2021, the video was also uploaded on Youtube two days later.
The description of the YouTube video uploaded on Jan. 11,2021 by Naren32 Rana says, "Huge Avalanche (हिम नदी) at Kapuche Lake Sikles. The Kapuche Glacier lake is located at an altitude of 2546 meters from sea level. It lies inside the small village Sikles of Kaski district in the Annapurna region. This lake has been declared as the lowest altitude glacier lake in the world. We had to spend overnight at lake in order to catch this moment and it eventually paid off. we were filming ourselves and all of sudden avalanche started, rest is history."
Google search threw up results of news related to this incident. The Weather Channel too published the video on January 26, 2021.
Claim: Video claiming it captured the first visuals of Chamoli glacier bust on Feb 7, 2021.
Conclusion: The video was not of Chamoli glacier bust but of an avalanche that occurred in Nepal a month before.
Our rating: Totally False ––