Again an image of Rashtriya Swayamsevak Sangh (RSS) volunteers carrying relief supplies in Uttarakhand is being circulated on social media with a claim that they are helping people in the recent Uttarakhand glacier burst tragedy.
It was used in the context of a glacier melt in Himalayas, flooding has washed away many people and wreaked havoc in the hilly terrain of the state of Uttarakhand in the downstream. More than 170 people are still missing in Chamoli district. So far, 34 bodies have been recovered and relief work is still on.
100s of #RSS volunteers are in #Chamoli working 24×7 without any desire for publicity. Compare it with charity tourist org which published 50 pictures of it's 6 "volunteers" even before they started their drive to disaster site in their SUV. #Hindus should support their own. pic.twitter.com/80MCtuPY41

— Jaidev Jamwal (@JaidevJamwal) February 11, 2021
The caption reads, ""चमोली – तपोवन के कई गाँवो में सैकड़ों स्त्री-पुरुष-बच्चे खुले में पड़े हैं। पुल बह चुका है… सड़कों का नामोनिशान नहीं… ऐसे में खाने के सामान से भरी बोरियाँ कंधे पर उठाए यह कौन लोग है ? नमन…वंदन राष्ट्र के प्रति ऐसी निश्वार्थ निष्ठा पर….कोई दिखावा नही।" (Translation: Chamoli – Hundreds of women, men and children are lying in the open in many villages of Tapovan. The bridge has been washed away … roads are not identified …In such a situation, who are these people carrying sacks full of food items?Wonderful sight of such selfless loyalty to our nation ….No show off."
The post on Twitter has been shared by many with the same claim here, here and here. The same image is also viral on Twitter.
FACT CHECK
When Digiteye India team received the image for fact check on WhatsApp, our team immediately recognised the anomaly in the picture. The uniform of RSS volunteers in shorts is not what the RSS volunteers use now. See the pictures here of the old and new uniform. The old khaki shorts were discarded in 2016 for pants. So, the picture was an old one and not the one in 2021 context.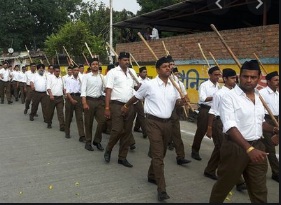 In a reverse image search on Google, we found the article where the picture was originally used and it was from 2013 by Samvada organisation that carried the same image with an article with a headline:"Day-12: RSS Relief Works at Uttarakhand – A Report in Brief; Needs more helping hands".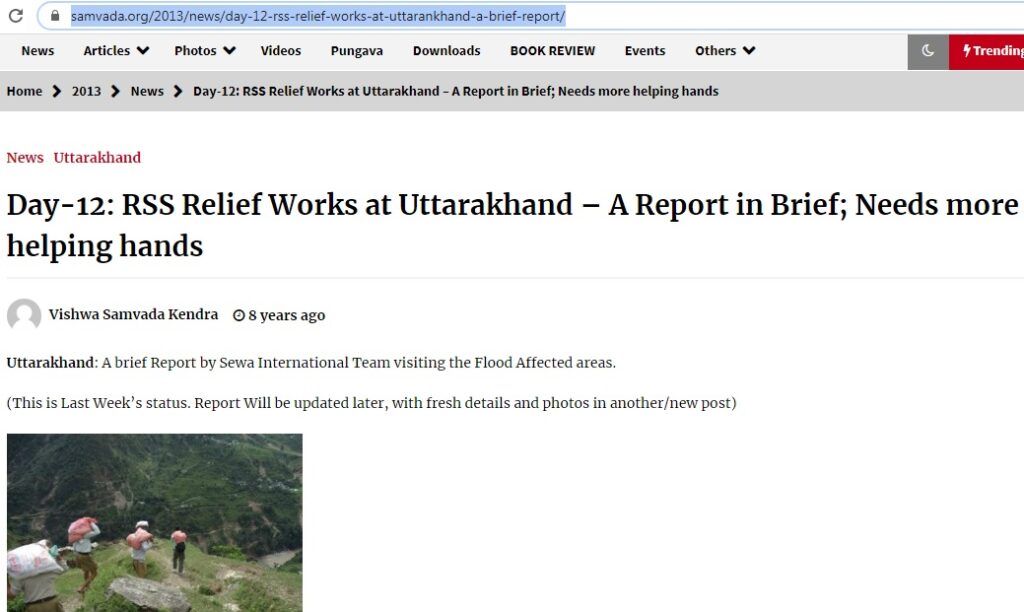 In fact, Uttarakhand was hit by flash floods in 2013 and it was widely reported in news. Several voluntary organisation joined the rescue and relief efforts including the RSS volunteers providing food, medicine, rescue assistance, transportation to safe places, helpline centres for relatives of yatrees stuck in holy pilgrimage centres due to the floods.
Coming to 2021, it was mainly the task of National Disaster Relief Force that is cooperating with the local administration to carry out rescue operations.
Claim: Hundreds of RSS volunteers are in Chamoli working 24×7 without any desire for publicity after the glacier burst in the first week of February 2021.
Conclusion: The image is eight years old was misrepresented to claim that RSS volunteers were present in Chamoli district of Uttarakhand in February 2021 after the the glacier burst tragedy.
Our rating is Misrepresentation —