A Spanish website devoted to Hispanics has put out a breaking news on December 28, 2020 claiming that the global tech giant Microsoft has acquired the Japanese conglomerate Sony for $130 billion, including all its affiliated businesses and PlayStation as well.
The headline read: "Microsoft acquires Sony with all its divisions, including PlayStation." The article went on to describe the details of the deal and how it helps the tech giant and owner of Xbox to own the rival's PlayStation.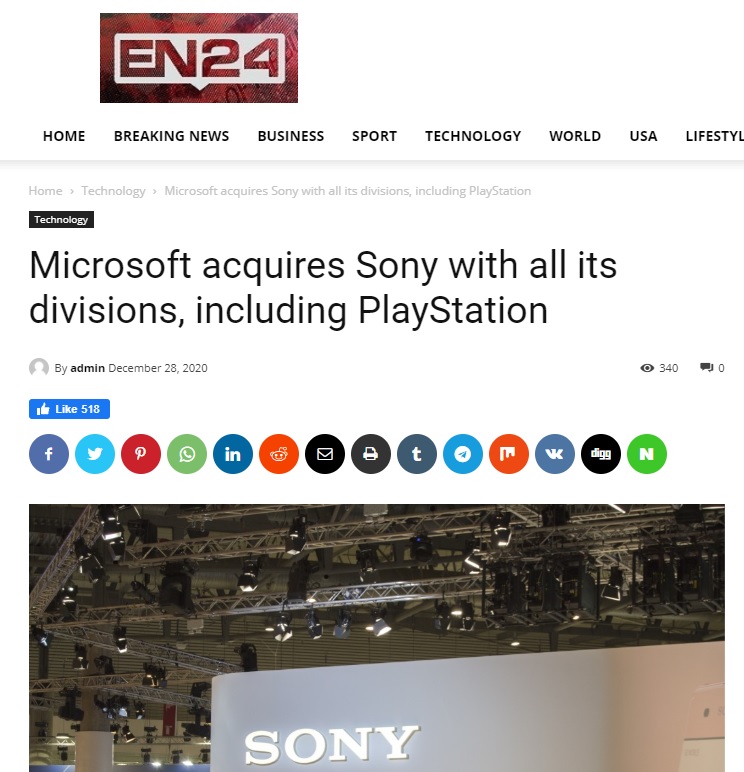 The article was shared by a website called Microsofters and soon took many by surprise and also gone viral social media with many people believing the news and retweeting it or taking predictive stand on the acquisition. There was no response or any official statement from Sony or Microsoft as of now. It was going viral on Twitter throughout the day on Dec. 28, 2020.
FACT CHECK
However, the fine print in Spanish when translated into English using Google Translate, left the hint at the bottom of the story. "It said April Fools' Day" as shown in the picture below:

Though April Fools' Day falls on April 1 every year, the story on Sony appeared on December 28. Further search on Google revealed that the day is widely observed as the "Day of the Holy Innocents" in many Hispanic cultures, which is an equivalent of April Fools' Day, an annual tradition of practical jokes.
Had it been a real news, global media would have reported it widely as it marks two global giants coming together. Many people who fell for it quickly deleted the story or the tweet realizing the hoax on a day for pranks in Hispanic culture.
Claim: Microsoft has acquired Sony for $130 billion
Conclusion: The claim that Microsoft has acquired Sony for $130 billion is a hoax spreading around on social media on the occasion of the Spanish April Fools' Day.
Our rating 

 —Totally False.