A post on social media claims that archaeologists have found a "6000 year old Shivalinga in a cave named Sudwara in South Africa". The post claims that the structure is made of hard granite stone. The post has been shared and forwarded numerous times on social media, especially among WhatsApp circles and groups. Digiteye India too received it for fact check.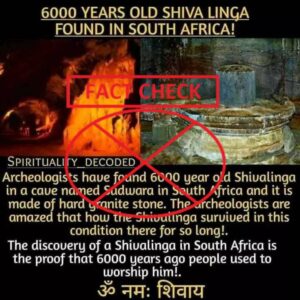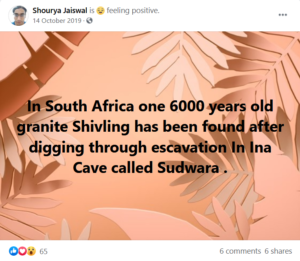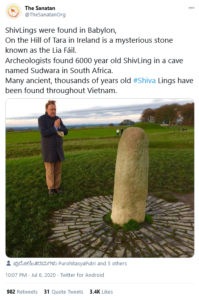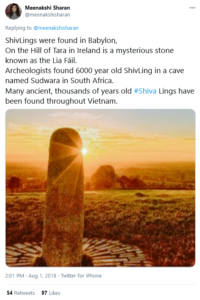 Fact Check:
The claim has been doing rounds since 2018. A keyword search on Google revealed that there is no Sudwara Cave in South Africa as the post claims. While South Africa is home to numerous cave systems, the closest we could find to Sudwara Caves was Sudwala Caves. Located in Nelspruit in the province of Mpumalanga, the Sudwala Caves is a popular tourist attraction.
These caves are one of the oldest known caves in the world. They began to form about 240 million years ago as natural acid in groundwater seeped through the faults and joints of the region's Precambrian dolomite rock, as Atlas Obscura states. The cave contains numerous stalagmite and stalactite structures with names such as the Samson's Pillar, the Rocket, and the Screaming Monster. A natural pattern occurs on the ceilings of one of the chambers and is known as Map of Africa. The cave has unique species of bats and microbial fossils. The central chamber of the cavern complex – 70m in diameter and 37m high – is as big as a 500-seater concert hall.
If a 6000-year-old Shivlingam was found in Sudwala Caves, the report of finding this artefact would have been recorded. A thorough search yielded no result. However, we did find reports of Indo-African worship structures but they were not in Sudwala Caves. A little away from the caves in the same province and area exists the Nelspruit Nature Reserves. This reserve is home to an ancient Hindu temple which still exists. A blog post stated that the ancient Hindu worship site which dates back 1,800 years is still in use today. The complex has rock structures resembling Lord Ganesha and the Shivalingam among other structures such as the prayer stones. Another post talked of a rock formation on a hill at Carisbrooke in Ixopo, South Africa to resemble Lord Ganesha.
Conclusion:
While Hindu structures have been found in South Africa, they were not found in Sudwala Caves as the post claims. The name of the caves has also been misspelt as Sudwara. Our rating

– Misrepresentation.