An image of a Platform Ticket Of Pune Railway Junction purportedly owned by Adani group is making rounds. It has ben shared by users on twitter and WhatsApp with a message: "Adani Railway, Railway Ab Hamari Niji Sampati Hai" [Now Railways are the property of Adani group.]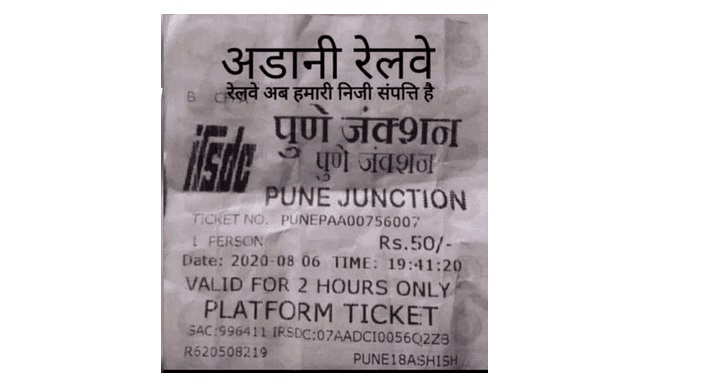 It may be recalled that the context of the message relates to the government's recent move to privatisation of the rialways, along with other major Public Sector Units. Some other users have changed the caption with different claims such as "गरीब और मध्यम वर्गीय लोगों की पंहुच से दूर हुआ भारतीय रेल" [Indian Railways has been taken away from the poor and middle class people now.]
Here are some such claims:
Pretty brazen. The Railways are now our personal property says this ₹50 platform ticket from the Adani Pune Railway station. #Railways #NewIndia pic.twitter.com/QQwiEbYpSv

— Scharada Dubey (@scharada_d) August 17, 2020
Fact Check
When Digiteye India team checked on Google Reverse Image Search, the results showed that image has been doing rounds since August 2020, when Indian Railways increased the ticket price to Rs.50. Here's one such platform ticket.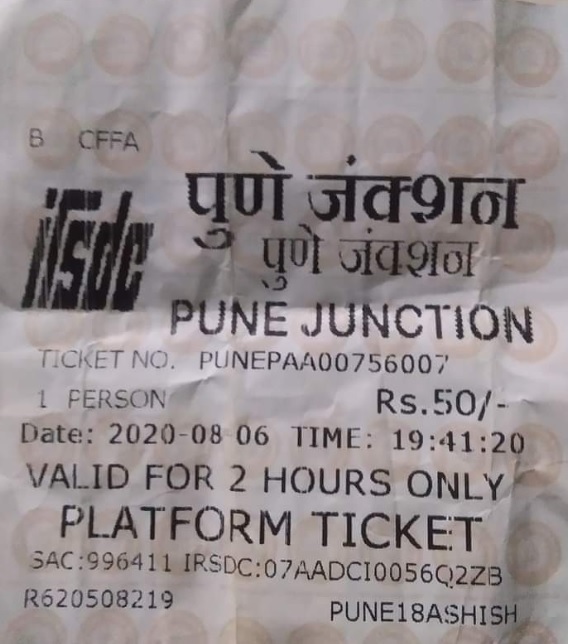 In March 2020, following the coronavirus outbreak, the Central Railways  has increased the platform ticket price to rs.50 and here is a communication to the effect officially. A spokesperson of the Railways defended the move to stop the unnecessary crowding at the railway station, especially to avoid crowds from gathering amid the coronavirus pandemic.
Sir abhi current me pune junction ka platform ticket kitna hai please reply maine ek pune junction platform ticket send kiya hai bo ticket real hai ya fake please sir reply pic.twitter.com/1XsENiGyF7

— Raju rana (@Rajuran94664105) August 18, 2020
#COVOD19 preventive measures.
Central Railway on its Mumbai, Pune, Bhusaval, Bhusaval and Solapur divisions increased the platform ticket from ₹10/- to ₹50/- till further advice.#BeAlert @RailMinIndia @drmmumbaicr @BhusavalDivn @drmcrngp @DrmSolapur @drmpune

— Central Railway (@Central_Railway) March 17, 2020
Changing the image with caption "Adani Railway, Railway Ab Hamari Niji Sampati Hai" printed on it, the new image is being shared in the context of privatisation of PSUs. It claims that the Railways is owned by Adani group, which is not true.
Claim: Adani group owns Railways as shown in ticket
Conclusion:
The government has not announced any privatisation of railway junctions so far, as claimed.
Our rating of the claim is

—Totally False.