A picture of Prime Minister Narendra Modi standing in a hospital cabin with Mukesh Ambani and Nita Ambani is going viral. The picture has been shared widely and forwarded many times. It was shared to coincide with the news of Mukesh Ambani's photos with his grandson being shared widely on news and social media.
In one of the shared messages on a social media site, the text accompanying the picture says: "Modi sir, who works for 18 hours a day went to visit Ambani's grandson who was born in a 5-star hospital. The farmers have been agitating for their rights for the last 17 days, but he does not have the time to talk to them. # Boycott_Jio_Reliance". The original text is in Marathi.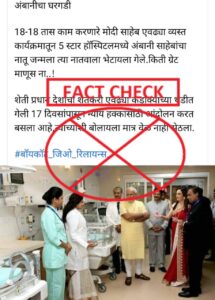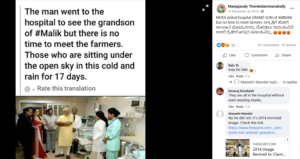 Fact Check:
A Reverse Image Search of this image led us to an article published in Financial Express dating back to 2014. The article uses the same picture stating that Narendra Modi was invited to inaugurate the HN Reliance Foundation Hospital in Mumbai. Other articles using the same picture confirm that the incident took place in October 2014.
The Reliance Foundation re-developed a 90-year-old hospital in the form of Sir HN Reliance Foundation Hospital and Research Center. Situated in Girgaon, Mumbai, the 345-bed hospital boasts of using cutting edge technology at affordable prices. The hospital has partnerships with numerous other world-class medical institutions, the Johns Hopkins Institute is one of them.
The inauguration took place on October 25, 2014. The governor of Maharashtra was also present along with several other distinguished personalities, stated Modi's website. Another giveaway clue to show that the picture is not recent is how no one in the picture is wearing a mask in a pandemic. Moreover, the current image is a mirrored version of the 2014 picture.
Conclusion:
Our rating of the claim that PM Modi visited the hospital when Mukesh Ambani's grandson was born is Misrepresentation —

. The image has been taken out of context.