In a series of tweets, few netizens have delineated the family tree of Prime Minister Narendra Modi. The thread packs in 12 names and states the relationship the said person has with Modi along with their professions to highlight how "all of them are millionaires and some billionaires." The thread specifically mentions that "1 to 4 are, PM Modi's brothers 5 to 9, Modi's cousins. 10 Jagjivan Das Modi, Uncle son. 11 Bhargava Kantilal, 12 Bipin are sons of Jayantilal Modi, PMs youngest uncle."
The thread has gone viral with forwards being sent on WhatsApp too. One such forward was sent to Digiteye India team for fact-checking.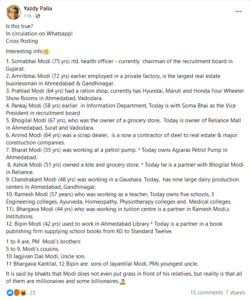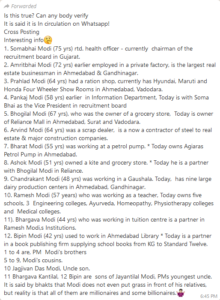 Fact Check:
Somabhai Modi – He is the oldest brother of Narendra Modi. Currently 78 years old, he runs an old age home and a trust in Vadnagar, Gujarat. He is a retired officer of the Health Department. The message states that he is the "chairman of the recruitment board in Gujarat". It does not mention which recruitment board. Gujarat has railway, police, and education recruitment boards in all the major cities; not one board for the entire state. A Google search across all boards does not show his name.
Amritbhai Modi – He is the second elder brother of Modi. According to an India Today article dating back to 2017 which states the Modi family tree shows that Amrutbhai Modi worked as a fitter for a private company where he worked the lathe. He lives in Ghatlodia, Ahmedabad along with his son and family. The message quotes that he "is the largest real estate businessman in Ahmedabad & Gandhinagar." While the message does not mention the estate or the properties, a keyword search of the same shows no result as such.
Prahlad Modi – He is the fourth child, after Modi. The message quotes him owning "Hyundai, Maruti and Honda Four Wheeler Show Rooms in Ahmedabad, Vadodara" but according to numerous articles online, this is far from the reality. He is a fair price shop owner and the president of the Gujarat State Fair Price Owners' Association.
Pankaj Modi – The youngest child of the Modi family, the message quotes him as the Vice president of the recruitment board along with Somabhai. According to the same India Today article above, he works at the Gujarat Information Department currently. Same as Somabhai Modi, no mention of the recruitment board is made either.
Bhogilal Modi – He is Modi's cousin. In reality, all Reliance Retail stores are owned by Mukesh Ambani and the company as it has no franchise system. The claim of him being the "owner of Reliance Mall in Ahmedabad, Surat and Vadodara" is false.
Arvind Modi – He is Modi's cousin and Bhogilal's brother. He is a "scrap dealer who collects old oil tins, corrugated boxes and other waste items, going house-to-house in Vadnagar and nearby villages and transporting them by auto-rickshaw or state transport bus." His name could not be traced in any of the major steel or real estate construction companies.
Bharat Modi – There is no Agiaras Petrol Pump in Ahmedabad listed on Google. There does exist an Agiyaras Mata Mandir in Gujarat, however, it does not have a petrol pump bearing the same name nearby. He lives over 60 km away from Vadnagar.
Ashok Modi – Another cousin of Modi, Ashok Modi has currently rented out a shop to sell kites, snacks, and crackers. The claim of him being a partner with Bhogilal at Reliance Mall is false because they do not have a franchise system.
Chandrakant Modi – The largest dairy production centres in Gujarat is Amul which is a cooperative body. Chandrakant does not own "nine large dairy production centres". He works as a helper at a
Ramesh Modi – The message does not mention which colleges or universities. It is an extremely vague claim.
Bhargava Modi – There is no Ramesh Modi group of institutions owned by Ramesh Modi. Hence, he cannot be a partner in the same.
Bipin Modi – The message states that he used to work in a library. Contradictorily, several online articles quote him as the librarian at the 82-year-old MJ Library in Ahmedabad.
Conclusion:
While the message did get the relations right, the claims made are twisted and tweaked with whatever information is readily available online. Our rating

– Misrepresentation.