A social media post claims that the ration cards issued to families in Andhra Pradesh have the picture of Jesus Christ printed on them. The post also included a picture of a ration card with the photo of Christ printed on it. The viral post states "यह आंध्रप्रदेश का राशन कार्ड है, जिस पर देवी-देवता का फोटो होता तो देश का सेकुलरिज्म खतरे में होता। पर अब ठीक है, क्योंकि यहाँ प्रेम, दया और करुणा के प्रतीक का फोटो है! अजीब है न भारत और भारतीय परंपरा में दोष देखना व आयातित को सिर पर बैठाना?"
The text translates to "This is the ration card of Andhra Pradesh. Had there been a picture of some God or Goddess, the country's secularism would have been in danger. But it is fine now because the picture here is a symbol of love, kindness, and compassion. India is strange, no, you can find faults in your own traditions but exalt the imported traditions." The same picture has been circulated on social media with different captions but all bearing the same message.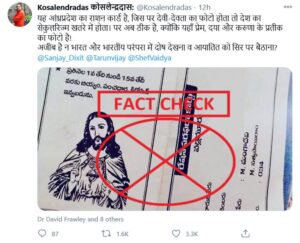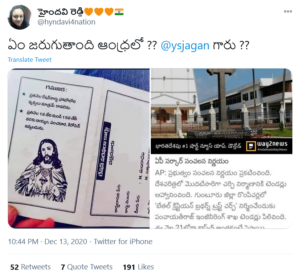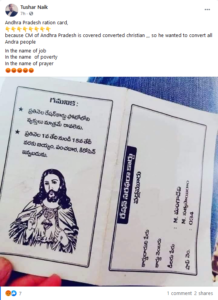 Fact Check:
Other images carrying similar messages have text written in Telegu on them. On translating, the text says rice, sugar, and kerosene are given from the 1st to the 15th of every month. In one image, it is written in Telegu "Ration Supply Card" and the name of the place is also mentioned — Vadlamuru.
A keyword search on Google revealed that this incident did take place in Andhra Pradesh in 2019. The ration card is from the East Godavari district of Andhra Pradesh. Vadlamuru is a village in the said district. Speaking to India Today, P Arun Babu, Director of Civil Supplies, Consumer Affairs, Food & Civil Supplies Department, Government of Andhra Pradesh clarified that these ration cards were not printed by the state government. "One dealer was printing it on his own, for his own identification purpose. It is being printed by one dealer to be used in a particular village only."
Social media users and opposition members, then, had targeted Jagan Mohan Reddy for furthering his religious beliefs on the people of Andhra Pradesh. The ruling Yuvajana Sramika Rythu Congress Party (YSRCP) had issued an official statement in this regard. The statement said "the ration cards were identified to be from Vadlamuru village of Peddapuram block, where the fair price shop (No. 34) was allotted to a woman dealer M Manga Devi. Manga Devi's husband M Satyanarayana, who is Telugu Desam Party (TDP) member, had intentionally printed Jesus Christ's picture on the ration cards with malicious intentions."
These posts were viral in 2019 also. Previously the dealer had printed pictures of Satya Saibaba in 2016, Lord Venkateshwara in 2017 and 2018.
The government had asked the dealer to stop printing these ration cards after it garnered a lot of attention on social media. Pictures of Chandrababu Naidu have also featured on some ration cards.
Currently, the ration card system has been digitized in the state with the help of Aadhar cards.
Conclusion:
Our rating

– Misrepresentation.