Chennai has witnessed incessant rains with flood water entering houses and inundating roads. Coinciding with the natural disaster, social media is abuzz with images of destruction and the plight of people in the city.
Some of the images and videos claimed to have been showing a waterlogged Chennai airport, as several flights were suspended on Thursday, 11 November, 2021. Among those videos, here is a video that has resurfaced on social media.
Chennai airport…யாரோட தொகுதினு பாத்து சொல்லுங்க… pic.twitter.com/8YNAqV7fCu

— SRK(@)Kannan (@experienceluv) November 11, 2021
It was also shared on Facebook as accessed here. The video was shared among others, by a TV news channel, though deleted it later.
FACT CHECK
As the video looked similar and old, we have fact checked a frame of the video to trace its origin to a visual of flooded airport that was originally capturing Mexico's Benito Juarez International Airport (Aeropuerto Internacional de la Cuidad de Mexico) taken in 2017. See the original video here:
#QueNoSeTePase Así el @AICM_mx esta tarde. El servicio está suspendido desde las 18:40. https://t.co/8XXhlAfv3i pic.twitter.com/eeTRkKq1fL

— Reporte Índigo (@Reporte_Indigo) August 31, 2017
In this video, uploaded on 31 August, 2017, the man with a yellow hooded figure near a plane had been captured vividly, making it peculiar to this video, which has been shared in the present context of Chennai airport's partial closure on Nov. 11, 2021.
It was true that the Chennai airport was closed for arrivals on Thursday from 1:15 pm until 6 pm due to heavy rains but departures were allowed.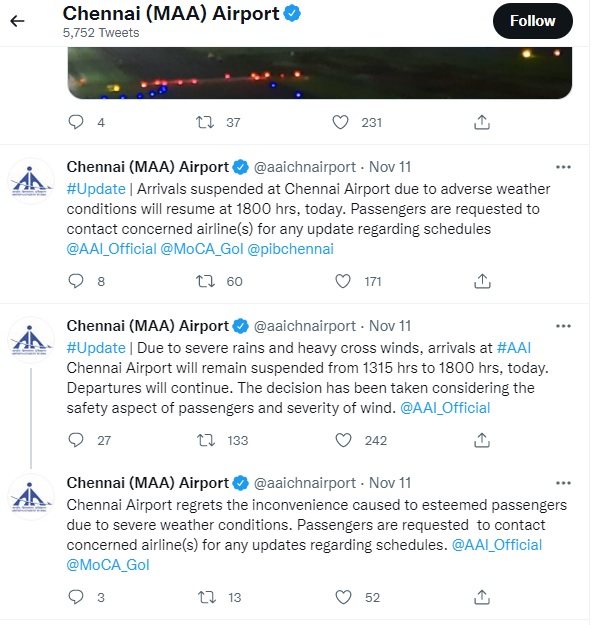 Claim: Chennai airport flooded with water as shown in video.
Conclusion: The video depicts a flooded Mexico City's airport runway in 2017 and does not reflect the ground situation at Chennai airport.
Rating: Misrepresentation —