Social media has revived the old fakenews which had originally taunted YSR Congress Party leader Jaganmohan Reddy's sister Sharmila allegedly having 'links' with Telugu actor Prabhas. Then confined to Telugu film industry, Prabhas who went on to gain national fame as the lead actor of Bahubali, had denied such rumours in 2014. Here's an old video of 2014 that has captured his reaction:
Here's the link to 2014 clarification given by actor Prabhas to the media in his Facebook that was retrieved by Digit Eye India team:
https://www.facebook.com/ravi.t.kunaparaju/posts/10202164860267446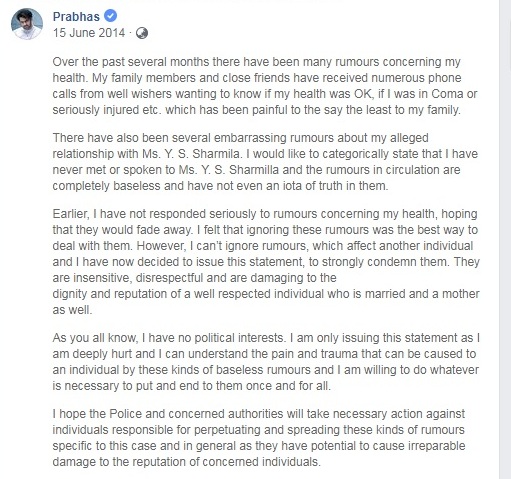 Though last time the false propaganda subsided following the election defeat of YSR Congress, it was renewed again as elections are forthcoming between the two major regional parties — Telugu Desam and YSR Congress.
Ms Sharmila said she had never even spoken to Prabhas."Being a mother, wife and person with family bond, it hurts when such slanderous campaign is carried out. If I do not react, my silence may lead to some unpleasant conclusions. That's why I lodged the complaint seeking action," she said, while filing a police complaint.
Conclusion: Despite proved and clarified as false, this claim keeps repeating in Andhra Pradesh just before the elections. Our rating of this claim is ????? (Totally False).