An old picture of West Bengal's Chief Minister Mamata Banerjee with West Bengal's former chief minister, Jyoti Basu, has gone viral. The viral image in sepia tones shows the two personalities greeting each other.
The text accompanying the image is in Hindi and roughly translates to "Don't you see anything strange in this picture? If you look closely then all your misconceptions will be cleared…the truth will come out and it will be bitter….!!! I have found an old picture in which Bengali and Hindu, Jyoti Basu, is folding his hands and doing 'namaskar' according to Hindu traditions whereas Mamata can be seen doing an 'aadab'. Did you understand anything or you have more doubts?"
Essentially, the caption hints that Mamata Banerjee is a Muslim.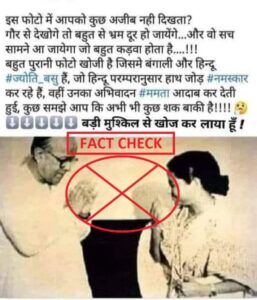 The picture has gone viral in the light of West Bengal elections. The same picture has been shared on social media platforms with similar claims.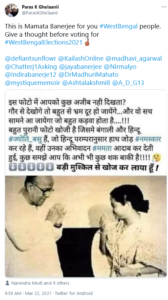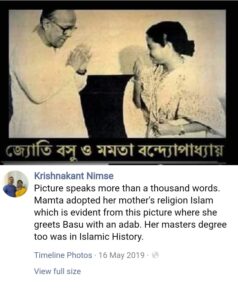 Fact Check: 
Digiteye India team conducted a reverse image search of the picture. The search led to an article by the Times of India titled 'Glimpses of Jyoti Basu's life'. The image was captioned: "Ms. Mamata Banerjee greets Mr. Jyoti Basu, who also (reciprocates) with "Namaskar" at Writers Building in Calcutta on July 1, 1991. (BCCL)".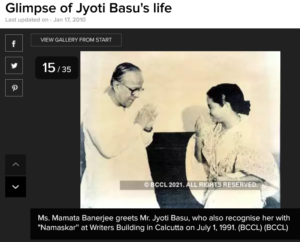 Back in 1991, Banerjee was appointed as the Union Minister of State for Human Resources Development, Youth Affairs and Sports, and Women and Child Development by Prime Minister P. V. Narasimha Rao.
The claim of her being a Muslim is false. She was born into a Bengali Hindu family. In one of her recent election rallies in Nandigram, West Bengal (March 2021) she has claimed that she is a Brahmin. She holds a bachelors degrees in Arts (BA), Education (B.Ed), Law (LLB) and a Masters degree in Arts (MA), as stated by the All India Trinamool Congress in its official website about its party leader.
In a public speech way back on May 12, 2019, she stated while campaigning for TMC candidate Nusrat Jahan in Basirhat, West Bengal that there was no difference between her and the Bengali actor. "Nusrat and I are Hindu and Muslim, but we are exactly the same. We have one face, two ears, two eyes, two kidneys, two arms, one liver." In a tongue-in-cheek addition, she said: "The only difference is she's beautiful and I am not."
As repeatedly stated by Mamata Banerjee on many public forums and election rallies, she is not a Muslim but a Hindu.
At a rally in Nandigram, where she is contesting for the Assembly. on March 31, 2021, she told media: "During my second campaign, I visited a temple where the priest enquired about my 'gotra'. I told him 'Maa Maati Manush' (the slogan that powered her to victory in 2011)."
She further stated,"That reminded me of my visit to Tripura's Tripureshwari temple where too the priest had asked my 'gotra' and I told him 'Maa Mati Manush'" and concluded her statement with a clarification:"Actually I am 'Shandilya'." It's Shandilya Gotra that she referred to, which a section of Hindus refer to their originator during the temple worship.
Claim: An old image of Mamata Banerjee with Jyoti Basu surfaces with a false claim that she is greeting the latter in Muslim tradition as she is a Muslim.
Conclusion: 
The image from 1991 is circulated with a false claim of Mamata Banerjee being a Muslim.
Our rating

– Totally False.