An image of Narendra Modi and Amit Shah wearing white Muslim prayer caps has gone viral. The image shows them in white clothes wearing kufi. DigitEye India also received the image for fact-checking. The image is accompanied by a caption in Hindi which loosely translates to "What made you wear the cap? Is this the craze to win a rule over a woman-dominated kingdom? Why?" The caption subtly hints at Mamata Banerjee and is going viral in light of the West Bengal elections.
Fact Check:
DigitEye India team ran a reverse image search on the image on TinEye. The results took us to a News18 article dating back to August 2019. The article, 'PM Modi, Amit Shah Meet Arun Jaitley's Family to Offer Condolences' is a photo series documenting the ministers' visit to former Union Minister Arun Jaitley after his death on August 24, 2019. The article has 10 pictures of Modi and Shah visiting Jaitley's family to offer condolences.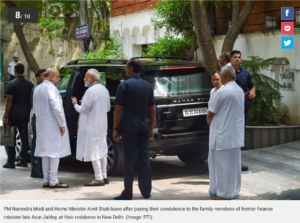 It is on these images that the kufi has been photoshopped on their heads. The glimpse of the white boundary wall and the black and brown entrance gate is visible in both the real and the morphed images.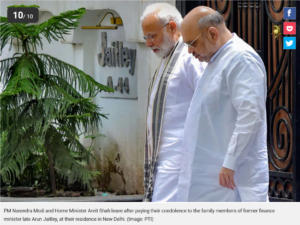 This original image was also used by The Hindu in a December 2019 article. Another image from the same series has been used by The New Indian Express in an August 2019 article.
Many other viral images have been removed from social media because they were fact-checked by independent fact-checkers. Their reports flagged the image as disinformation.
Claim:
Image of Narendra Modi and Amit Shah wearing white prayer caps to appease the Muslim community in West Bengal for the Assembly Elections.
Conclusion: The image has been morphed to spread disinformation.
Rating:
Our rating

– Totally False.