A WhatsApp forward is going viral which claims that the Indian government is giving away Rs.2,000 as a relief to each citizen owing to the losses incurred by the COVID-19 lockdown. The viral message says:
"The Government has finally approved and have started giving out free Rs.2,000 Relief Funds to each citizen😍
Below is how to claim and get yours credit Instantly as I have just did now
https://bit.ly/india-relief
Note : You can only claim and get credited once and it's also limited so get your now Instantly."
The message contains a link directing to a website allegedly giving away Rs.2,000 to every citizen. The message quickly started spreading across many people because they thought it was from the Government itself.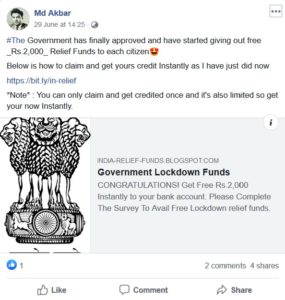 Fact Check: 
The message looks authentic in the first go because the State Emblem has been used. However, some clues depict that the link is a clickbait. All government websites use the domain of "gov.in" or "nic.in" which is not the case here. The link redirects to an "india-fundds.blogspot.com". When DigitEye India clicked on the link to verify the truth, the page redirected to a Blogspot page which stated that the link has been removed.
There has been no official statement or press release by the Government about this offer which testifies that the claim is false. Similarly, PIB Manipur issued a press release calling the claim "completely baseless and misleading information." The press release requested people to "restrain from falling prey to any such news reports which are fake and unauthentic". All India Radio News has also called it fake and urged people "to beware of such fraudulent websites and WhatsApp forwards".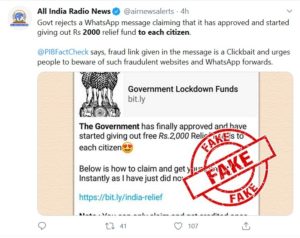 DigitEye India has previously debunked a claim which stated that workers from 1990-2020 liable to receive Rs.120,000 as Covid-19 relief.
Conclusion:
Our rating is

— Totally False.