A screenshot of a viral tweet allegedly by Home Minister Amit Shah is doing rounds on social media platforms. The viral tweet dated June 29, 2020, with a timestamp of 6:13 PM says "Fixed Line Broadband & Mobile Internet services to be snapped in the UT J&K and Ladakh from tonight."
This tweet created much uproar and was shared by users on all social media sites.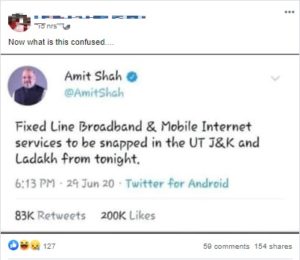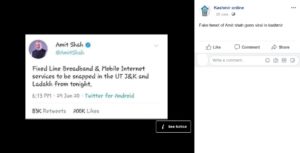 Fact Check: 
DigitEye India checked Amit Shah's Twitter account and found out that he had made no such tweet. Shah has not tweeted anything on June 29th. The screenshot is cleverly crafted showing no signs of morphing or manipulation as such.
However, one giveaway to confirm that the screenshot is fake is blatantly evident. Next to the time stamp, "Twitter for Android" is written but a quick scan of Shah's Twitter account reveals that his tweets are often marked as "Twitter for iPhone". Above all, the font is entirely different. See the official tweets: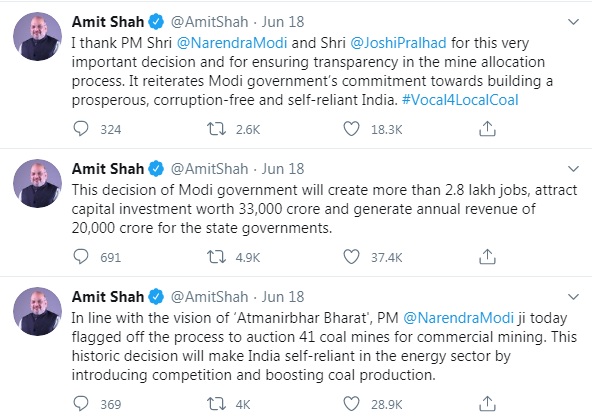 An advanced Twitter search reveals that Shah has made no tweets regarding the internet in Kashmir in June 2020. Similarly, he has made no tweets regarding this issue since January 2020. The spokesperson for the Ministry of Home Affair soon tweeted on the same and called it fake.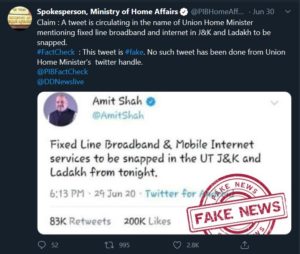 Jammu and Kashmir never had access to 4G internet for 10 months. Firstpost reported in April that "2G mobile internet services shall be available to postpaid sim cardholders and only to verified pre-paid sim card holders as issued by an order by the J&K Home Department.
The residents of J&K have access to 2G speed internet service and access to 1,485 approved sites by the Government as reported by the Indian Express on February 16, 2020, which includes OTT platforms such as Netflix, research website Elsevier, and news outlet BBC among others.
Conclusion:
Our rating is

— Totally False. It is a fake tweet.