A representative image of a Saligram (precious stone linked to Hindu God Vishnu, ) is going viral. The text accompanying the image says: "This Saligram belonging to Puri temple was last taken out in 1920 during the Spanish flu to ward off the ill effects of the Pandemic. It has been taken out again now in view of COVID. Please take Darshan and pass it on to family and friends."
The image has been shared widely on social media platforms and is not restricted to just public pages but also social media groups and messaging apps. Digiteye India also received this image for fact-checking on its WhatsApp platform.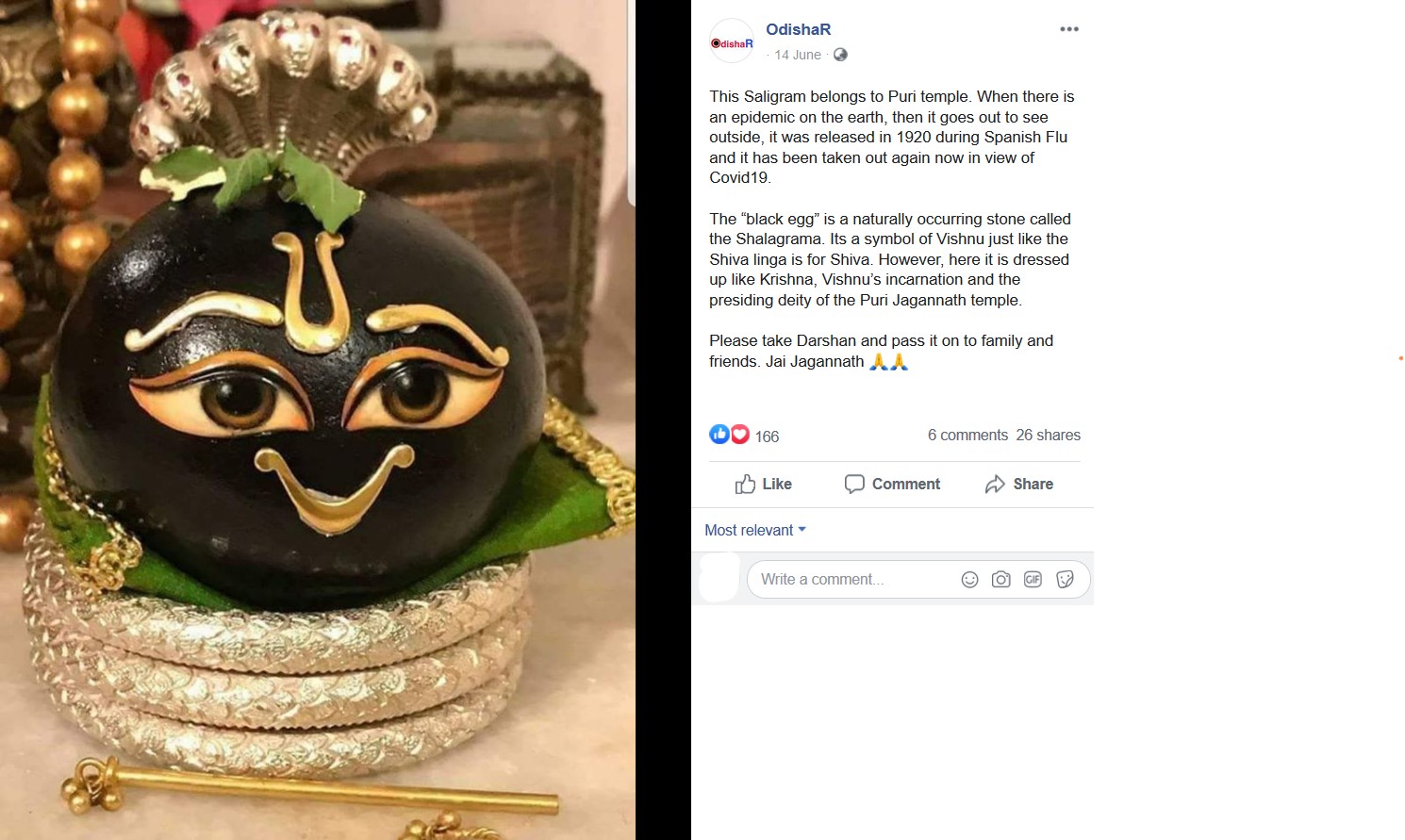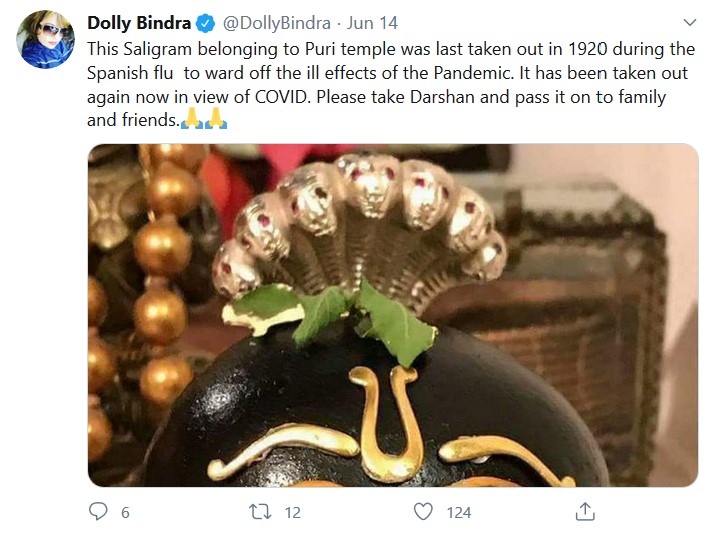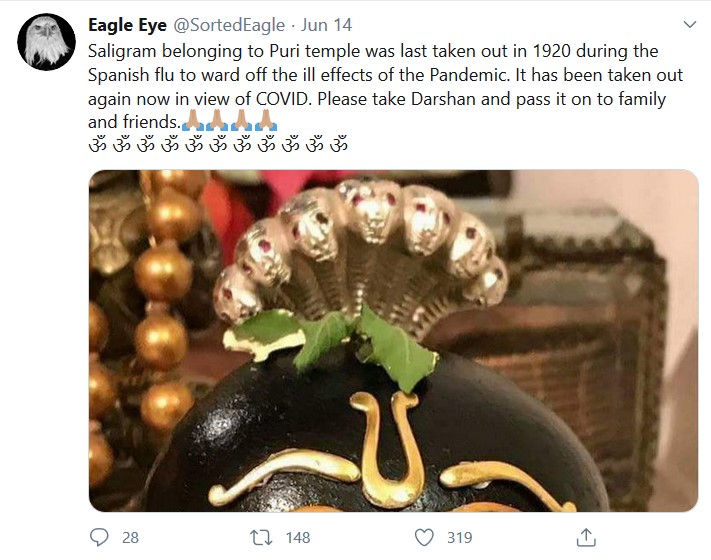 A YouTube video says that the Saligram stone at Jagannath Temple, Puri in Odisha has been taken out only during difficult and testing times for worship. The 2-minute video posted by 'Merudand' on May 19, 2020, titled "पुरी जगन्नाथ मंदिर का नरसिम्हा शालिग्राम । केवल संकट के समय पूजा के लिए बाहर ले जाया जाता हैं" has garnered more than 5,000 views.
The video shows a man breaking open a Saligram to show the intricate design in the stone uploaded on Youtube on May 21, 2020. It reads in Telugu that the famous Narasimha Saligram was taken out only during global pandemics and last time it was taken out in 1902 during the Spanish Flu pandemic. Similar video was also posted by one Nimesh Shah on YouTube on May 19, 2020, titled "💙 पुरी जगन्नाथ मंदिर का नरसिम्हा शालिग्राम। Jaganath Puri Narshima Shaligram" which has fetched 8,000 views. 
Fact Check:
Jagannath Temple does, indeed, have a Saligram stone in its premises. But it is the largest and heaviest of its kind in India which makes it difficult to move around. Also, it is not moved around on a hand of somebody as it is placed in a sanctified area inside the temple owing to religious beliefs and traditions. If something of this kind did take place, it would have been reported widely by the media.
No such media report appeared and no announcement to the effect was made by the temple administration. The video narration is about saligrams but it doesn't say that the particular one is from the Jagannath temple, Puri. It talks about how a shaligram looks and how it is formed.
Another false claim which the cover image states is the date of the Spanish Flu. The Spanish Flu was a 1918-19 pandemic, NOT in 1902 or in 1920, as claimed in these messages. It was caused by an H1N1 virus of avian origin. According to the CDC, "An estimated 1/3 of the world's population was infected with the 1918 flu virus – resulting in at least 50 million deaths worldwide."
Saligram stones are fossilized seashells of the extinct ammonites which explain the spiral structure in it. They are found mostly in river beds. Dinkar Joshi, in Glimpses of Indian Culture (2005), says that they are "regarded as a symbol of Lord Vishnu. This idol is found near River Gandaki in north Bihar and at Dwarka in Gujarat. Patal Khand of Padma Purana describes the importance of saligram. An image of Lord Vishnu can be seen inside the gap in this idol. Saligram is supposed to possess mystical powers" (p.16).
Conclusion:
Our rating is Misrepresentation —