There has been a plethora of misinformation going around over the use of hand sanitizers. Sanitizers have seen a massive spike in their sales in the current coronavirus pandemic. The older set of misinformation regarding sanitizers is how it combusts when exposed to heat, or causes skin burns. These claims have been debunked by DigitEye previously.
Now, a graphic image of a man's palms filled with liquid warts is going viral on social media. The image claims that the incident took place in Mangaluru, Karnataka after a man used a different sanitizer than the one which he used before. The same image has been shared by many pages and one such is shared even in Bengali. 
GRAPHIC IMAGE // VIEWERS DISCRETION ADVISED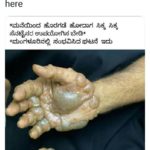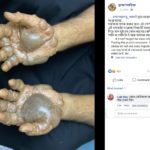 Fact Check:
We conducted a Reverse Image Search on Google which led us to these pages which shared the image in languages other than English.
Amid the coronavirus pandemic, when hoarding of these alcohol-based hand rubs was witnessed in the country, several small units started manufacturing sanitizers and selling them at a lower price. These homemade sanitizers, often found carrying less or more than the stipulated alcohol content and other chemicals which might trigger allergic reactions.
"Itchiness, scaliness, redness, you can even get so dry and flaky that you start to have fissures or cracks in the skin where it hurts and burns when things enter. That could be a portal for a bacteria to set in and cause an infection as well," said Dr Corey Hartman, Medical Director of Skin Wellness Dermatology, Birmingham, to WBRC in a report on the subject.
Florida Skin Center talks about how excessive use of hand sanitizer has been linked with hand dermatitis. "Alcohol-based hand sanitizer can disturb the natural pH and barrier of the skin, leaving skin vulnerable to allergens which can penetrate beneath the surface and trigger an autoimmune reaction. It is this reaction which causes reddening, itching, blisters, swelling, peeling, and cracking. In severe cases, the condition can become persistent," said a report by the Center. Alcohol tends to fry out the skin aggravating such issues.
Digiteye India talked to a dermatologist based in Jamshedpur and showed her the image. The dermatologist said that it is highly unlikely that a sanitizer could lead to such adverse effects. It could be a picture of "Dyshidrotic Eczema" (a skin condition in which tiny, fluid-filled blisters appear on the palms and fingers). When searched for images, an image of Pompholyx eczema has shown similar features as below. So, this could be a form of eczema in its worst form but being passed off as the ill effects of sanitizer use. 
GRAPHIC IMAGE // VIEWERS DISCRETION ADVISED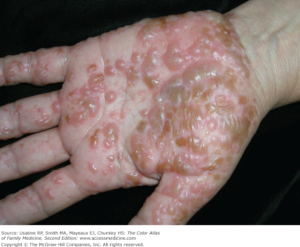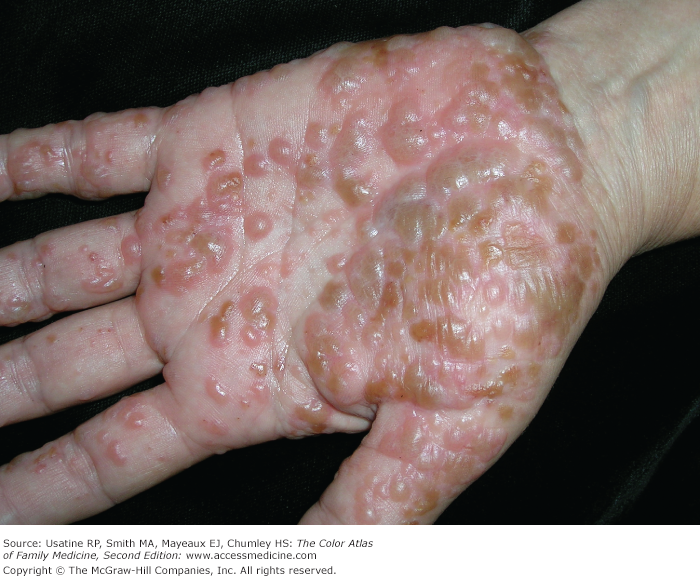 World Health Organization recommends handwashing with soap and water as the most effective measure to ward off infecting the novel coronavirus or Covid-19.
Conclusion:
Our rating is

– Misinterpretation.