As Lata Mageshkar's funeral made headlines on Sunday, Feb. 6, 2022, several celebrities paying their last rites was constantly watched on TV channels by people and one such as Bollywood star was Shah Rukh Khan, who paid his last prayers before the funeral.
The most secular person .But this secularism always brings hate for him🙂#ShahRukhKhan #LataDidi #LataMangeshkarPassesAway pic.twitter.com/St6gY3FdNa

— Azharul Akash (@AzharulAkash3) February 6, 2022
However, a 13-sec video clip of the actor offering prayers for Lata Mangeshkar but showing him in bad light is going viral with a claim that Khan spat after reciting prayers.
Bharatiya Janata Party spokesperson Prashant Patel Umrao shared the viral video stating, "Shahrukh is Spitting!". The claim has gone viral. One user wrote:"Spitting while Paying last respects??? What an ugly culture @iamsrk !!! disrespectful to #LataDidi". Sudarshan TV repeatedly showed it among others.
It has been widely shared on social media here and here.
FACT CHECK
Reciting holy verses and then blowing air is called Ruqyah in Islamic tradition. Professor Junaid Haris of the department of Islamic studies from Delhi's Jamia Millia Islamia (JMI) university clarified that it was not spitting but a typical Muslim tradition of blowing air into something after reciting the holy verses.
It's called Ruqyah or Ar-Ruqyah AshShar'iyyah in Arabic and Dum in Urdu. In fact, inhis movie "My Name is Khan", the actor does the same for his son who was ill. See the video:
This is what he exactly did Shah Rukh Khan pic.twitter.com/ftz3hSr1rg

— Klaus ¯\(ツ)/¯ (@theboylovesbeer) February 6, 2022
Hence, Shah Rukh Khan did not spit in front of Lata Mangeshkar's mortal remains but he paid respects in Islamic tradition by blowing air after offering prayers.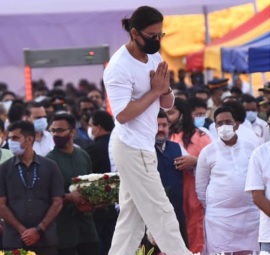 Further, when he took a "pradikshin" or going round the body, he was seen with folded hands in a typical Hindu tradition as shown in the picture above.
Claim:
Shah Rukh Khan was seen spitting after offering prayers for Lata Mangeshkar.
Conclusion:
Shah Rukh Khan blew air in air as per Islamic tradition called Ruqyah and he did not spit as claimed.
Rating: Totally False —