Many TV news channels have gone wild alleging under "Breaking News" on Thursday, August 31 that the Kerala police arrested 25 (some reports said 30) students of Silver Arts College in Kozhikode, for allegedly waving the Pakistani flag during the college election campaign.
The number of students varied but all major news outlets from Times Now, Deccan Chronicle, MyNation, OpIndia to Dainik Jagran have carried the same news. The reports said that the Muslim Student Front (MSF) was behind the incident in which the alleged Pakistani flags were raised. MSF is a student wing associated with the United Democratic Front in Kerala.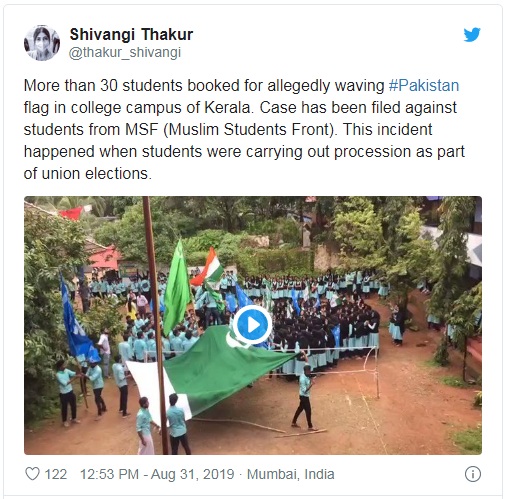 Both Twitter and Facebook started sharing the news and videos. The issue got accentuated when local police filed an FIR against 30 students belonging to the MSF under sections 143 (punishment for unlawful assembly), 147 (rioting), 153 (intent to cause riot) and 149 (offence committed under unlawful assembly) of the Indian Penal Code.
Fact Check
Soon, a Facebook user Abdul Jaleel uploaded a video showing the real picture. He wrote, "This video will show the truth" and it clearly shows that the flag raised in Silver Arts and Science College was of MSF and not Pakistan's flag. The difference between the Pakistani flag and the MSF flag is distinct. See the difference: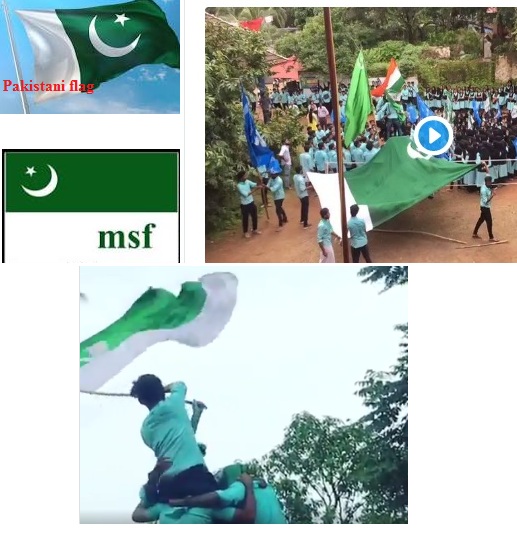 Unlike the Pakistani flag which has white on the left, the MSF flag has the colour at the bottom.
The crescent moon on the Pakistani flag is in the middle while on the MSF flag it will be on the top left corner. The visual discrepancy led to the mistaken identity of MSF flag with that of Pakistan.
Conclusion: The claim and reports are based on certain identical features in both flags and there is no truth in reports that the students did wave Pakistani flag inside their school compound during the student union elections. Our rating of the claim is Exaggeration ?.