The Congress Party has made a video on the occasion of its leader and mentor Sonia Gandhi's birthday on December 9. It was widely shared on Facebook by the party's Social media head Divya Spandana or Ramya, as she is popularly known among Kannadigas. See the video here:
The video claims several sacrifices made by Congress leaders and mentions Indira Gandhi and Rajiv Gandhi. However, the video missed a crucial fact when a clip declared:"Soon after in 1991, India again lost its Prime Minister". This followed a screenshot that declared Indira Gandhi's assassination in 1984 that saw Rajiv Gandhi becoming the PM.
But the Congress lost the elections in 1989 and several coalition governments were formed and Chandrasekhar was PM when Rajiv Gandhi was killed.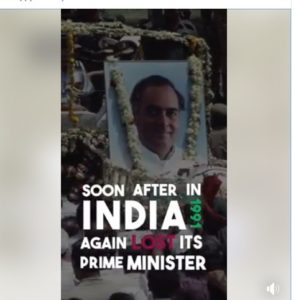 Fact-wise, Rajiv Gandhi was not India's Prime Minister then and his party was supporting the Chandrasekhar government from outside. Hence, the claim made in the video is incorrect.
He was actually campaigning for the Lok Sabha elections in the southern states of India on 21 May, 1991 and it was at Sriperumbudur in Tamil Nadu that he was killed in a suicide bomber attack by an LTTE assassin.
Conclusion: The tragic death of a former Prime Minister has been misrepresented as the death of the country's  prime minister by the Congress Party's Social Media In-Charge. Our rating of this claim is ??? – Misrepresentation of facts.