Recently, a video claiming to be Aryan and taken while he was in an inebriated state at the airport and urinating in the open at queue is going viral on WhatsApp. It is followed by another image that has the wording "CONFIRMED" stamp with a logo of ALT News, a fact checking organization.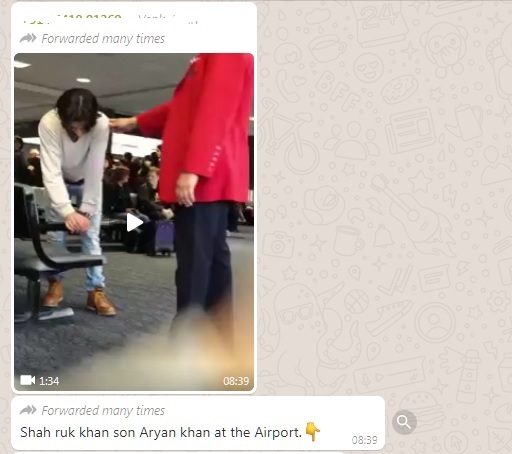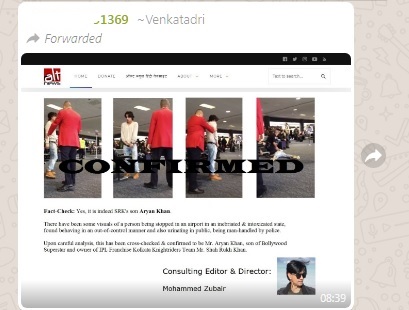 The claim states: "Shah Rukh Khan's son Aryan Khan". It was widely shared on Twitter too. The timing of the video and these images coincides with the actor's son being cleared of bail terms to visit the local police station on drug charges, which are yet to be filed.
FACT CHECK
When Digiteye India got a request for fact checking, our team took frames of the video and checked on Google Reverse Image Search. The results showed an old article in the Daily Mail dated January 3, 2013. As per the article, the man in the video was Bronson Pelletier, a cast member of the 'Twilight Saga' movie franchise.
In fact, the incident took place 26 days before the publication, to be precise, on December 17, 2012. As per the follow-up reports, the actor was found guilty and "handed two years' probation as well as 52 court-mandated AA meetings, amounting to two a week for the next six-and-a-half months".
So, the video is not of Aryan Khan and of Twilight actor Bronson Pelletier when he was 25 years of age.
Secondly, by putting another picture after the video that showed ALT News logo with CONFIRMED written in black across the images is another bid to authenticate the video. The actual ALT News article had the following cover image: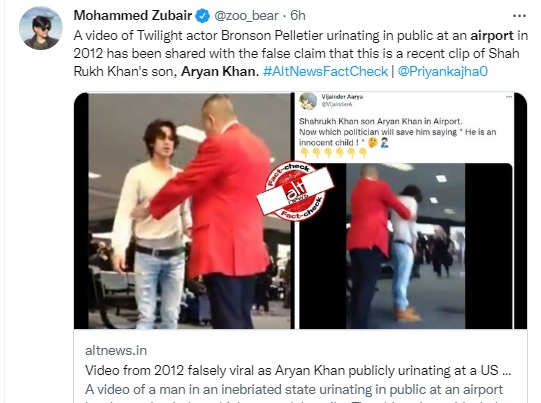 Hence, the image was morphed to show that the fact checking organization ALT News has confirmed it, which it totally false. Moreover, ALT News stamp shown above is used and not "CONFIRMED" across the images.
Claim: Video claiming that Aryan Khan was in an inebriated status and urinating at an airport.
Conclusion: Totally False as the video belongs Twilight actor Bronson Pelletier taken in 2012.
Rating: Totally False —