गुजरात के वलसाड के RM VM school Ka अध्यापक बच्चो की किस अंदाज में पिटाई करते हुए। pic.twitter.com/L9uRpwt7XE

— Virendra bajad (@VirendraBajad) May 15, 2019
See the disturbing video above that has been going viral with the caption that reads:"आप के whatsapp पे जितने भी नंबर एवं ग्रुप हैं एक भी छूटने नही चाहिए, ये वीडियो सबको भेजिए ये वलसाड के RM VM SCHOOL का टीचर है इसको इतना शेयर करो की ये टीचर और स्कूल दोनों बंद हो जाए ।" (This is a teacher from Valsad's RM VM School. Share is so wide that the teacher is suspended and the school is shut down)." Valsad is in Gujarat.
The video of school kids being thrashed mercilessly by a school teacher was made to believe as if it was the RMVM school in Valsad, Gujarat. Actually, when we searched Youtube, we realised that it was an old picture that was debunked two years ago.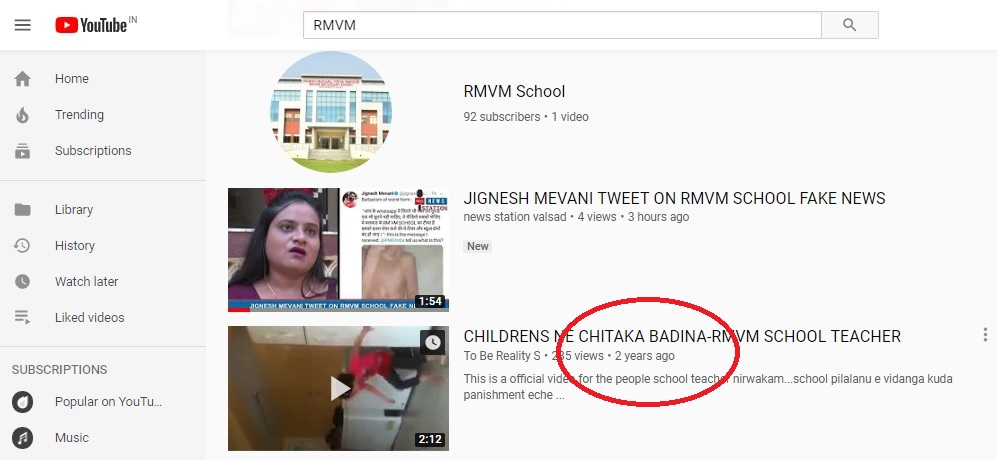 This school's name has been used on every such video of child abuse videos since 2017. The latest one was shared by over 800 people. One of the Youtube channels was even punished to keep off air for one day for violation of I&B Ministry rules.
The actual news surrounding the video was different. Cross-checked with Google reverse image search showed that this particular video belonged to an incident in Egypt, not Gujarat. Daily Mail reported about this incident on August 5, 2014, describing how an orphanage manager was seen beating little kids. His wife secretly filmed it, according to Daily Mail. Here's a link to the video:
https://www.dailymail.co.uk/embed/video/1110261.html
Conclusion: The particular video claiming a school teacher is torturing a student in RMVM school in Valsad, Gujarat is Misrepresented ???.