As Uttar Pradesh elections are nearing, several claims have become usual on social media and the latest one is by the Bharatiya Janata Party members in the state. Using the image of UP Chief Minister Yogi Adityanath, they showed a poster with an image of a dam to claim that UP's Bundelkhand region is witnessing infrastructure development under the current chief minister.
The poster assures that the drought-prone region of Bundelkhand will see more areas under irrigation with the dams and other infrastructure projects. See the poster shared widely on Twitter:
Drought prone region of Bundelkhand will get irrigation projects during visit by PM Modi ji and CM Yogi ji #बुलन्द_बुन्देलखण्ड pic.twitter.com/hcXjEXHS0G

— Anil Kumar (@KumarAnilBJP) November 19, 2021
It was shared widely by the BJP leaders in the state here  and here. MLA Avdesh Singh and Ravindranath Tripathi are among those who shared it.
Fact Check
A simple Google Reverse Image Search has shown that the dam doesn't belong to UP but the one from Srisailam in Andhra Pradesh. Here's the original picture of the dam that was used to show it as part of the infrastructure development in Uttar Pradesh.
Moreover, the Srisailam dam was built  in the state of Andhra Pradesh from 1960 to 1980 when the Congress party was in power in the state. The picture was originally used by Deccan Chronicle newspaper in a report pertaining to water levels in the dam on Aug 10, 2018. See the report: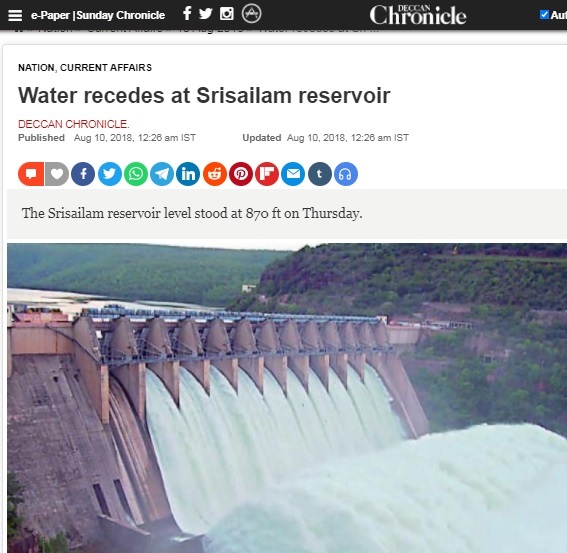 Claim: Poster with an image of a dam to claim as an infrastructure project in Bundelkhand, UP.
Conclusion: The picture belongs to Srisailam Project in Andhra Pradesh, not in UP.
Rating: Totally False —

.