In Begusarai Lok Sabha constituency of Bihar, former JNUSU president Kanhaiya Kumar is contesting from the Communist Party of India (CPI) ticket and many former JNU students and Gujarat MLA Jignesh Mevani too were campaigning aggressively.
However, the local caste politics have started surfacing and claimed that Mevani and his JNU brigade was assaulted by local people while campaigning in Bhumihar-dominant constituency, giving it a caste colour. A picture showing Mevani being manhandled appeared on social media.
It may be recalled that Gujarat's Vadgam MLA Mevani was in Begusarai to support Kanhaiya Kumar, who is contesting from the seat on a CPI ticket. One twitter user Murari Sharan Shukla has claimed that Mevani was assaulted by the local Bhumihar youth and even hailed the Bhumihars for their act. The tweet was shared by 1,036 users and retweeted by more than 450 people.
बेगूसराय के भूमिहारों की जय हो। कन्हैया के जेएनयू ब्रिगेड को जमकर लत्तम जूता लगाया है वहाँ के भूमिहार युवाओं ने। जिग्नेश मेवानी और कन्हैया समेत डफली बजाने वाले शहरी माओवादियों की पूरी टीम की जमकर धुनाई हुई है आज।
~मुरारी शरण शुक्ल। pic.twitter.com/A8wdTChLkd

— Murari Sharan Shukla (@murarishukla) March 31, 2019

It translates: "This is not Gujarat but the land of Begusarai. Here, people let their fist before speaking." The image was widely shared by Facebook page ModiNama and news website Dainik Bharat, with a disclaimer that they could not confirm the news.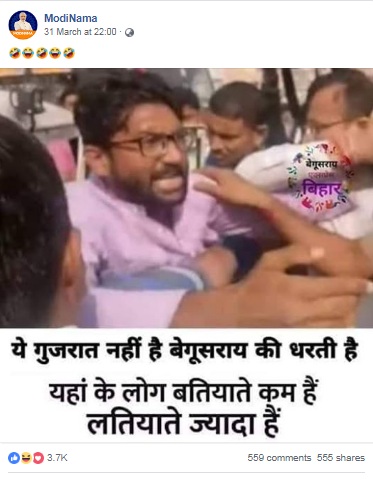 When Digiteye India used Google reverse image search, an older picture of Mevani at a protest on February 18, 2018, came up and further search on Google revealed that he was detained by the Gujarat Police after the protest over alleged apathy of the government over the self-immolation of a Dalit activist.
The picture was a screenshot from the video below about the protest that was posted on YouTube by News24. See the image at 00:23 seconds.
Conclusion: The claim that Jignesh Mevani was beaten up in Bihar's Begusarai was incorrect. Our rating of it is ??? Misrepresentation.