Amid an increasing clamour about the success of Vivek Agnihotri's film "The Kashmir Files" that earned more than Rs.250 crore but not a single penny went to benefit the affected or displaced Kashmiri Pandits, a Twitter claim has gone viral. It claimed that "The KASHMIR FILES donated the entire fund of 200 crores to the Prime Minister's Fund. Salute to Vivek Agnihotri for donating the entire collection of 'The Kashmir Files' to the Prime Minister's Relief Fund."
The Kashmir Files के निर्माता विवेक अग्निहोत्री ने अपना वादा पूरा करते हुए 200 करोड़ का चेक प्रधानमंत्री राहत कोष के लिए मोदी जी को सौंपा।
इस पैसे का इस्तेमाल कश्मीरी पंडितों के लिए किया जाएगा। pic.twitter.com/Nn04paLVWU

— Gopal Deradi (@GDeradi) April 6, 2022
The visual included a photo of "The Kashmir Files" director Vivek Agnihotri with Prime Minister Narendra Modi as part of the tweet. It was widely shared by many as seen below: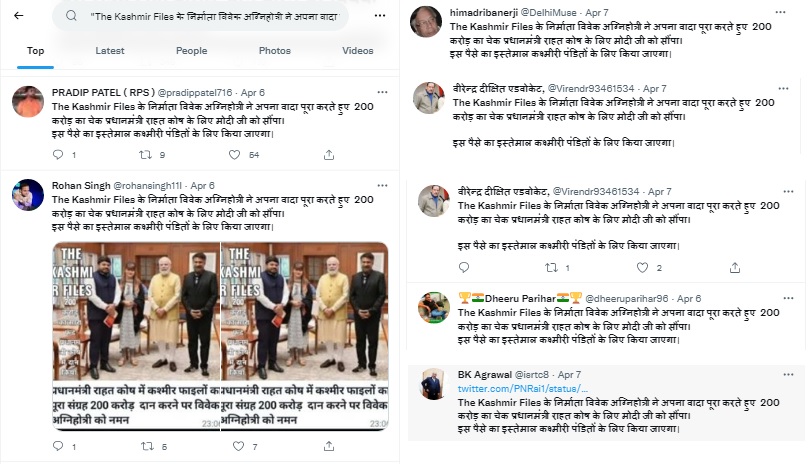 FACT CHECK
A simple search on Google and a reverse image search of the photo showed the director along with his wife Pallavi Joshi and filmmaker Abhishek Agarwal team meeting with PM on March 12, 2022. It was widely reported in news and also shared on Twitter. But never did Vivek Agnihotri donate ₹200 crores to PM Relief Fund, or not so far. No news story or press release by the team so far.
In fact, both Agnihotri and Pallavi Joshi had made it clear in an interview to Patrika that the money goes to the four producers and it's their call. Later, several media houses contacted Agnihotri's PR team, which denied it as a rumour. Hence, there is no truth in Kashmir Files team donating the earnings.
Claim: The KASHMIR FILES donated the entire fund of 200 crores to the Prime Minister's Fund.
Conclusion: No such donation has been made so far.
Rating: Totally False —