In a new kind of narrative, a viral video on social media claimed that a group of women was detained for pelting stones at a Ram Navami procession. It was widely shared with a claim in Hindi that said,"*MP के #खरगौन मे #हिन्दुओं पर #पत्थर और #पेट्रोल बम चलाने वाली #सलमा,#रुकसाना को जेल भेजती #पुलिस* *बाबुल की दुवाये लेती जा…………" [Translation: Salma and Rukhsana from Khargone in MP are being sent to jail by police for pelting stones at Hindus.]
*MP के #खरगौन मे #हिन्दुओं पर #पत्थर और #पेट्रोल बम चलाने वाली #सलमा,#रुकसाना को जेल भेजती #पुलिस*
😁
*बाबुल की दुवाये लेती जा…………😍👆* pic.twitter.com/lguQdqfTan

— Vikram Sony#प्रशासक समिति (@VikramS01862646) April 15, 2022
It may be noted that several incidents of communal flare and violence have been reported across the country, including the premier university campus of JNU, this year on the occasion of Ram Navami. The video started making rounds a day after the Hindu festival was celebrated on Thursday, April 14 with sporadic incidents of communal violence in Khargone, MP and other places.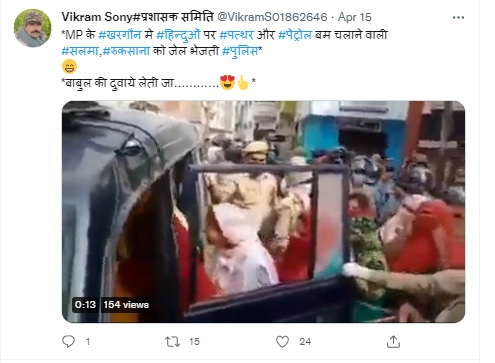 FACT CHECK
When the Digiteye India team checked for the video on Youtube searching for violence related to Ram Navami processions, no such video appeared. When a frame cut was used for similar videos, then a 2020 Moradabad video surfaced in which the footage of health workers and cops taking relatives of those who died from Covid-19 to reach a quarantine centre. The longer version of the video can be seen here:
The incident was reported from Moradabad and the original video was uploaded by India Blooms News Service on April 15, 2020. Hence, the new claim that some women were being arrested for pelting stones at Ram Navami procession in Madhya Pradesh after the Khargone communal violence was false.
Claim: Salma and Rukhsana from Khargone in MP are sent to jail by police for pelting stones at Hindus in Khargaon, MP.
Conclusion: Tweaked claim with a video of Covid-19 pandemic used.
Rating: Totally False —