A viral WhatsApp message claims that the Government has approved and is giving out Rs.5,000 to every citizen owing to the losses incurred due to the implementation of the lockdown. Digiteye India also received the message on its WhatsApp number for fact-checking.
The viral message states: "The Government has finally approved and have started giving out free Rs. 5,000 Relief Funds to each citizen😍
Below is how to claim and get yours credit Instantly as I have just did now
https://fundzforcovid19.com/
Note : You can only claim and get credited once and it's also limited so get your now Instantly."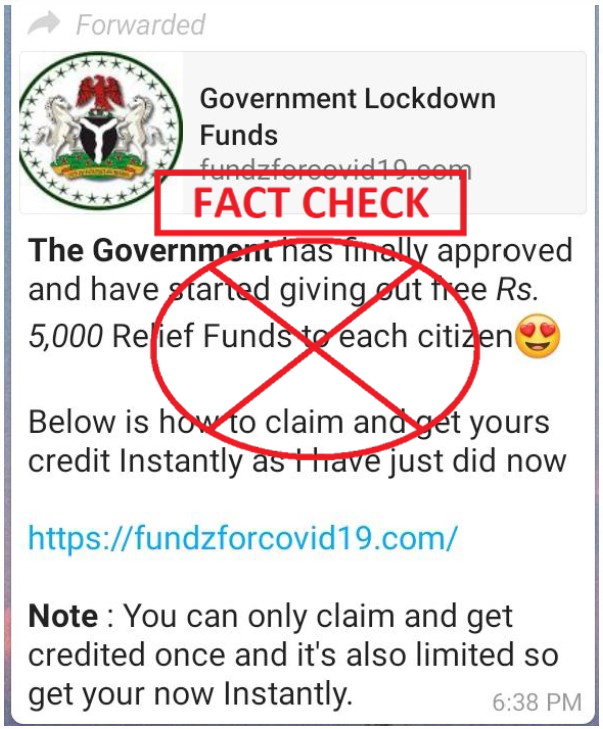 Fact Check:
Digiteye India decided to follow the steps given in the message on the website to see where it would lead. The first question asked on the site is whether the individual is a bonafide Indian citizen. A feature which stands out on the first page is how it reads "an Bonafide Indian citizen" and "this offer is limited only till 2 25th of August". A typo on an alleged government website raises eyes.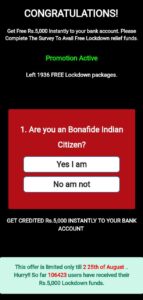 The second question asks how much money the individual needs to "sustain" himself throughout the lockdown. It has three options for Rs.5,000, Rs.10,000, Rs.15,000 respectively while the latter two show "Not Available".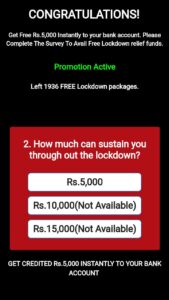 The third question asks what the money will be used for and provides options to choose either Internet, Food, or Clothing.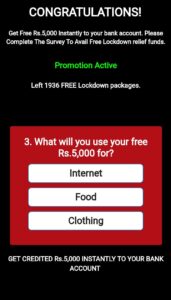 The final page shows that the user needs to forward the message to "7 WhatsApp Groups" to get the money credited, post which they asked for bank account details.
An interesting point to note here is that no matter which device you use and no matter how many times you open the website, the comments remain the same and so does the people who endorse it. It will always show the same thumbnail of people and the same number of comments, i.e., 173,330.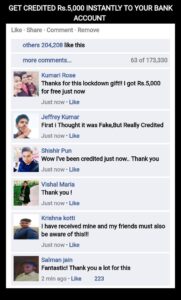 Few characteristics expose the dubious website. The spelling of funds is "fundz" and such spelling error from a government website in its address is unprecedented. All government websites end with the suffix "gov.in" or "nic.in", not with ".com".
The website was created on August 13, 2020, as checked on WHOIS (finds information on the domain name or website). Finally, there has been no information from the government regarding any such scheme till date. All government websites have the emblem of India on their homepage which was missing from the said site.
But here, the thumbnail has a Nigerian emblem — the Coat of Arms. Similarly, it has many grammatical and syntax errors which further prove that the website is fake. We have fact-checked similar other websites which claim to provide relief funds which can be found here and here.
Conclusion: Our rating of this claim is

— Totally False.