As flight-tracking website Flightradar is known for showing all the flights around the world avoiding Ukraine airspace due to the ongoing Russia-Ukraine conflict, a picture showing one aircraft in red and claiming it to be of an Air India flight AI121 as a showcase of India's power under PM Narendra Modi.
Ever since Ukraine was under attack from the Russian shelling, the country's airspace has been closed for all civilians flights since 24 February. It was known that India has been trying to evacuate its nationals, mostly students, from the war-torn country safely and Air India has been flying special flights to bring home more than 20,000 Indian students stranded in Ukraine.
Airlines trying to avoid the airspace near Ukraine meanwhile Air India are casually flying right over it😂 pic.twitter.com/9wk0KnDHoj

— jayden (@Iionsdenkxip) February 25, 2022
The image has been shared widely on social media, including WhatsApp and Twitter.
In most of the messages, the caption read, "This single picture tells the whole story. यह नया भारत है । जय हिंद". [Translation: This is new India. Jai Hind.].
Some have shared the image claiming that:"This single plane which is flying in the Russia-Ukraine war zone sky is a reflection of the power of new India. When no country dares to fly there, it is Air-India which is flying in the warzone to airlift Indian nationals who are stuck there."
In other messages, it was claimed: "All fearing the airspace above the Ukraine. Those of Air India "You only live once" Yolo". Another user by name Suhasini with a Twitter handle @BeautifulDurga wrote: "Air India lone airliner to brave through war-ridden Russia-Ukraine airspace: Power of Honorable #PMModi ji."
FACT CHECK
The image in red has been clearly morphed as the Flightradar website shows all flights in the same colour and shape, unless the cursor is put on a particular flight. Here the size is rather larger than the usual size. Secondly, in some messages, the image shows it as Indian Airlines and not Air India, which makes it suspicious. Thirdly, the flight timing of the Air India-121 on Feb 24 had taken the same time as the flights before and after as seen below: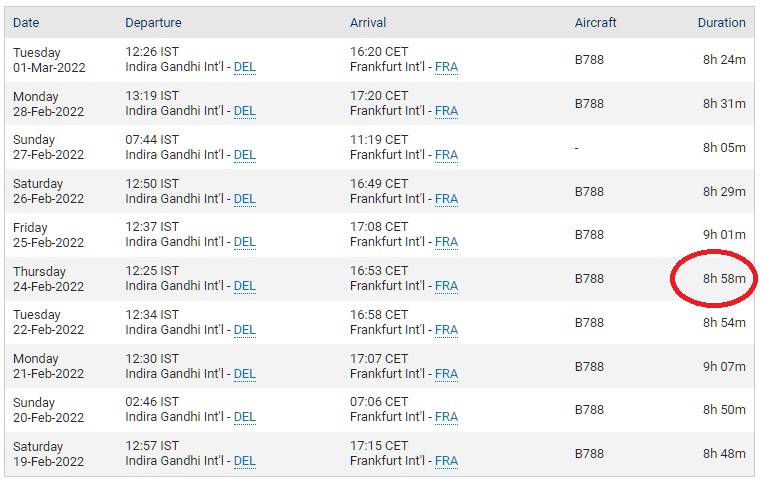 However, Air India flight AI-121 went from Delhi to Frankfurt on 24 February but avoided Ukraine's airspace. See the flight path info as per the https://uk.flightaware.com/live/flight/AIC121 image shown below: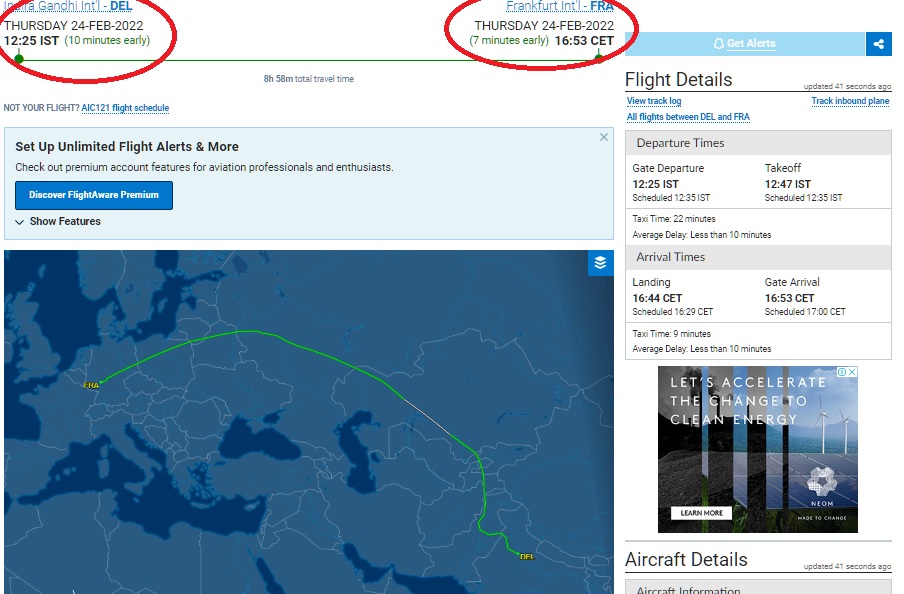 Hence, the flight mentioned in the map didn't enter Ukraine's air space as per the flight path available, and avoided Ukraine's airspace. In fact, the distance was clearly mentioned as 4,221 miles than the direct flight that takes 3,809 miles as shown below from its flight path info from FlightAware website: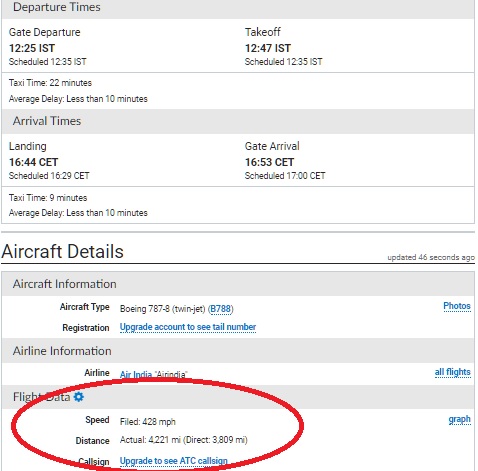 Hence, it's a morphed image and not true.
Claim: This single Air India flight in the Russia-Ukraine war zone sky is a reflection of the power of new India under PM Modi to airlift Indian nationals who are stuck there.
Conclusion: No such flight flew over Ukraine when the war was going on and the image was morphed.
Rating: Totally False —