As Ukrainian war unfolded, several claims and counter-claims have been making rounds and one with respect to India's act of abstaining from a UN Security Council vote has made many to look for reasons behind such move.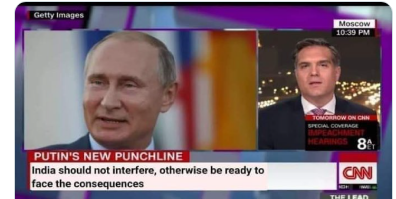 It may be noted that Russia is a long-standing ally of India, especially during the Cold War period and on several occasions even to this day. Despite India's appeal to both Ukraine and Russia to return to talks and shun war, the move to abstain from voting at the UN Security Council for the resolution against the Russian invasion has hit many social media platforms.
Amid several analyses and rumours, one has caught the attention of many. "India should not interfere, otherwise be ready to face the consequences," said the headline as shown above purportedly bearing the CNN TV screen grab. It was widely circulated on social media.
FACT CHECK
In fact, while declaring the war on Ukraine, Putin in his televised address on February 24, asked "all other countries" not to interfere in the matter and that any such move would lead to "consequences they have never seen." This is a general warning to all third countries and nowhere was he seen mentioning India. Translated version of Vladimir Putin's full speech can be seen here.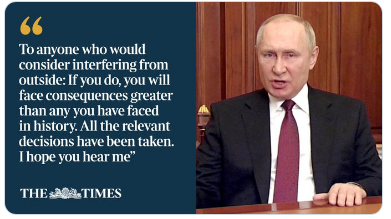 While India enjoyed close ties with both Russia and Ukraine, it abstained from voting on the UN Security Council resolution that condemned Russia's "aggression" against Ukraine and demanded the withdrawal of Russian forces from the neighbouring country.
Eleven countries voted in favour while India, China and the UAE abstained, owing to their proximity to Russia. India's Permanent Ambassador to the UN T S Tirumurti explained that India called for a return to the path of diplomacy and respecting the sovereignty and territorial integrity of states.
There is no other clue to support the view that Russia threatened India of consequences as claimed.

Secondly, the claim showed it as CNN report. When we searched CNN for the report, there was no such report. Further, the image was same as a report from November 2019 that surfaced with a headline:"Top Russian official jokes about interfering in U.S. elections in 2020". It was changed to Putin's warning to India — "India should not interfere, otherwise be ready to face the consequences". Even the small text box in red that said, "Putin's new punchline" makes it clear that no such report with this punchline was carried out by CNN.
Claim: Putin warned India of consequences if it votes against Russia at UN Security Council.
Conclusion: No such warning was given and the claim was made morphing CNN punchline from old report.
Rating: Totally False —