A video is making rounds on WhatsApp warning people in Chennai that dog meat is being shipped into the city for restaurants. It said similar supplies are made to Mumbai, Hyderabad, Cochin and other areas. The video accompanying it depicted how the Railway officials at Egmore Station in Chennai confiscated the boxes containing the meat. The message read:
"1000 kg dog meat confiscated today in Chennai Egmore station. All of it was for restaurants and hotels, ordered on daily basis . Also supplies made to Bbay , Hyd , Cochin , other areas. Restaurants list will.be out soon. Please avoid non veg food outside… Restaurants list will.be out soon."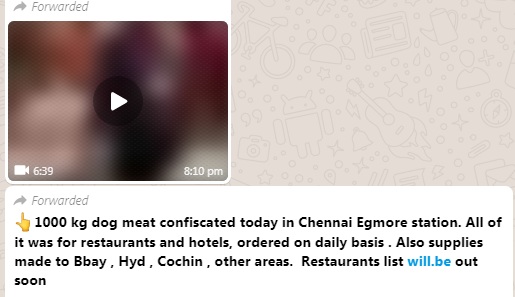 The message has instantly triggered wide discussion among vegetarians and non-vegetarians in the groups.
Fact Check:
A simple Google search for news related to dog meat confiscation at Egmore railway station revealed that the news was as old as 2018 and not 'today' as claimed in the message that was shared on Wednesday, November 25, 2020.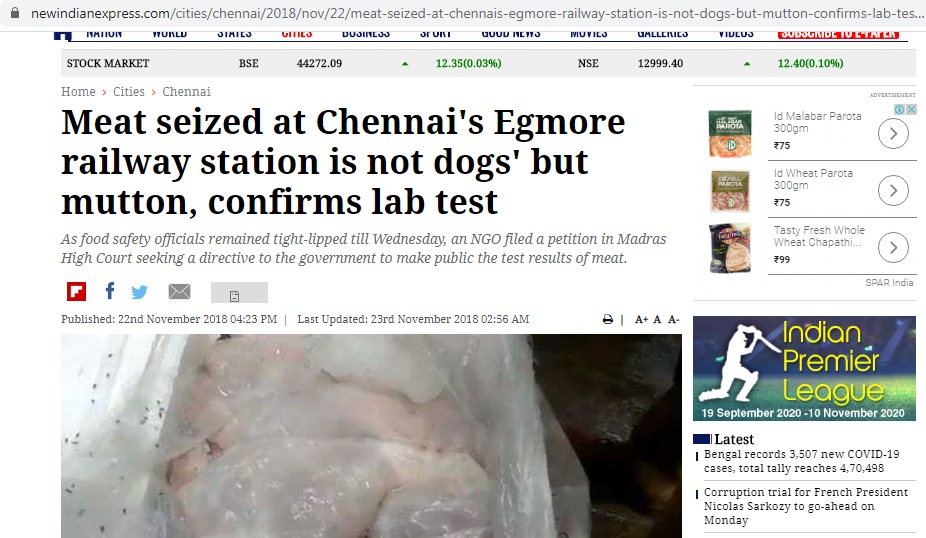 Further search revealed that the updates on this news revealed that the meat was tested by local veterinary officials and confirmed that it was of goat meat and not dog meat. Further, the carcass belonged to pre-puberty animals, thus in small size than grown up animals. See the news report published in New Indian Express here.
It informs "Quoting the report submitted by Tamil Nadu Veterinary and Animal Sciences University, A Shanmugasundaram, Chennai Collector said in a statement that the meat sample is that of the small ruminant carcass (goat/sheep).

According to a report submitted by professor and head of the Department of Veterinary Surgery and Radiology of Madras Veterinary College, incomplete closure of growth plates indicated the pre-pubertal age of carcass, thereby proving that carcass was that of a goat."
The message further claimed that the restaurants list will be out soon and the link https://will.be/nl was given to a Dutch language website with no relation to Chennai, thus making it unauthentic and totally a false claim.
Conclusion: The claim is Totally False —