A graphic video of a woman being beaten up brutally by a group of men is making the rounds on WhatsApp and being shared widely. From the 2-minute long video, the place where the incident took place cannot be ascertained but the message accompanying the video claims that it is in Uttar Pradesh.
The text accompanying the video states: "A dalit girl in UP who took water from a well being tortured by village men, serious action to be taken on the stupid, pls share this video to maximum people for the indiscrements (sic) to be found and punished. Independent India is being shamed by such idiots." It was shared by a Congress leader Bismaya Mahapatra as shown below:
That's beastland UP under a brutal set of leaders.

Watch this.👇 UP again.
A low caste woman tried to collect water from the village well. Look what upper caste men did to her.

No outrage. Nothing at all.
Such is the brutal clamp down by force.pic.twitter.com/vHbjO4BXug

— Bismaya Mahapatra (@bismay_inc) June 9, 2020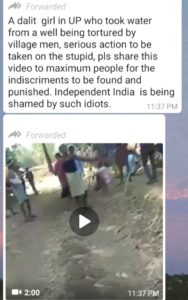 Fact Check:
DigitEye India also received the same video for fact-checking. We broke down the video into keyframes and conducted a Reverse Image Search. One of the keyframes took us to a Times of India report dated May 28, 2020. The report states that the incident took place in Bilvant village, a part of the Chhota Udaipur district of Gujarat and not in Uttar Pradesh as netizens claim. The report states the incident took place on May 21, 2020. The woman in the video was thrashed because she eloped with a young man from the same village. After news of them missing came out, people tracked them down and brought them back to the village.
A keyword search on Google landed us on other articles related to this incident. Dainik Jagran reported that the couple had eloped to a village in the neighbouring Madhya Pradesh and was brought back by the locals. It reported how the female was tied and was flogged by a stick. When her father tried to intervene, he was beaten up too. Cases have been registered against the accused under various sections of the Indian Penal Code (IPC) and Protection of Children from Sexual Offenses (POCSO) Act.
Quoting local Deputy Superintendent of Police A V Katkad, it said that cases have been registered against the three men who can be seen physically hitting her with sticks. Also some 13 other men who were present at the site were booked under several sections, quoted News18.  The woman in the video is a minor, said Daily Mail.
 Conclusion: It was an old video from Gujarat which resurfaced with people claiming it to be from Uttar Pradesh  misrepresenting the facts Our rating

– Misrepresentation.