With the border tension providing new insights with every passing hour, the public has formed its own views. There have been instances of people boycotting and destroying Chinese manufactured goods to express their resentment. Hashtags such as #BanChina, #BoycottChinaChinesProducts and many others are trending on social media.
TikTok became the most boycotted Chinese app from Google PlayStore. The ratings of this app dipped sharply and many people uninstalled it from their phones. Anti-China sentiments led to people uninstalling other Chinese apps from their phones, even though Xiaomi and OnePlus products which are Chinese manufactured goods sold out in a short time.
Amid this, an alleged official memorandum issued by the National Informatics Centre (NIC) is doing rounds on social media. The alleged notice has laid down a list of "Chinese applications" which allegedly "hold the privacy of the user at risk" and compromise "the sovereignty of the Country". The notice is addressed to the regional executive and representatives of "Google India Pvt Ltd" and "Apple India Pvt.Ltd."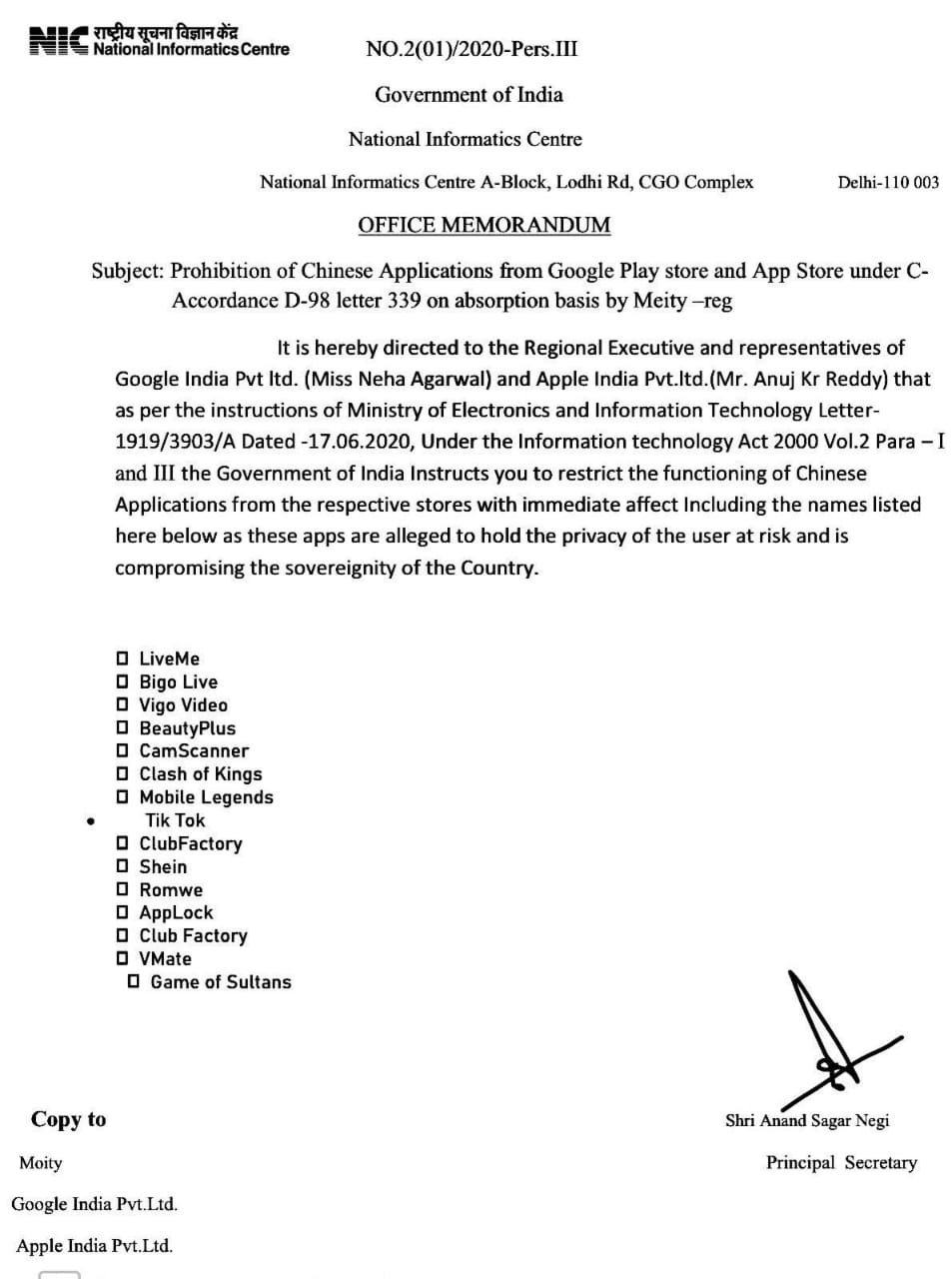 The list contains names of around 15 apps that deal with e-commerce, gaming, and social media among others. This news was shared on social media platforms widely.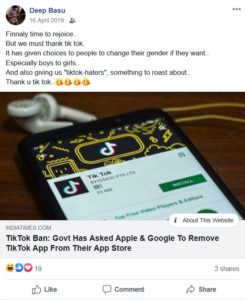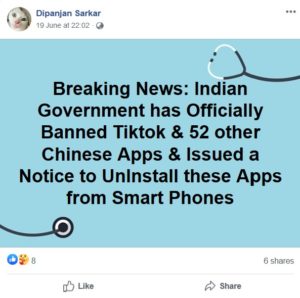 Fact Check:
While the official memorandum may look benign, it has clear messages being spread by people. Any official memorandum related to technology will be issued by the Ministry of Electronics and Information Technology (MeitY). NIC is just a body attached to MeitY. NIC provides the digital infrastructure to government websites and technology communications whereas MeitY is an executive agency of the Government. At the national level, MeitY issues official memoranda and not NIC.
We checked the MeitY's website for any such memorandum and found no such notice. An interesting aspect of the alleged notice is how it claims to be signed by Shri Anand Sagar Negi who is the Principal Secretary of NIC. This claim is also false because Negi is the Principal Private Secretary of MeitY and not the NIC. Neither Google nor Apple made any such statement on their websites, which they usually do.
Several other rookie errors have been made which attest that the image could be fake. Firstly, how the letters are not uniformly capitalized, an example being "Apple India Pvt.ltd." and "Information technology Act" among others. Second is how sovereignty has been misspelt. Thirdly, the bullet points are not equally left-aligned. Finally, the government public relations wing Press Information Bureau (PIB) issued a clarification.
PIB Fact Check took cognizance of this alleged letter and called it fake and NIC retweeted the same, putting all speculations to rest.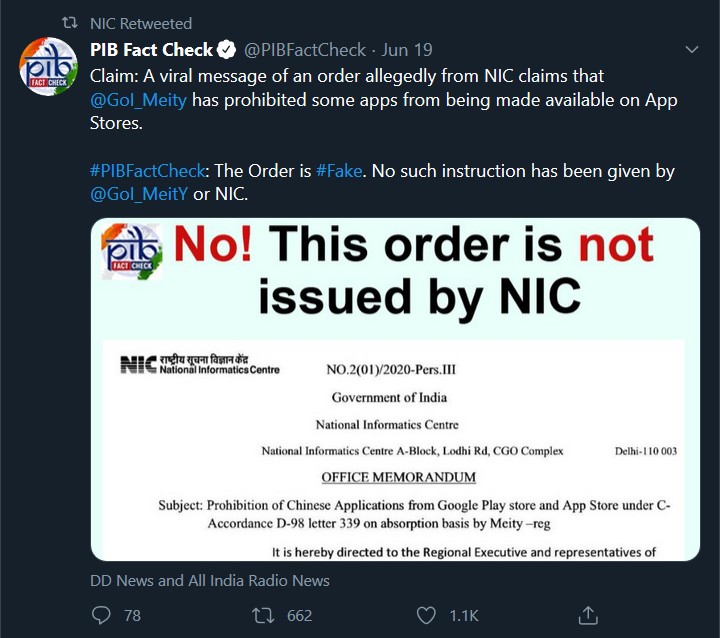 Conclusion: This is a an entirely false claim. Our rating is

– Totally False.
(NOTE: Indian government, however, banned 59 Chinese-origin Apps later on June 29, 2020 including Tik Tok and see the official announcement and the apps as per the MEITY notification, not NIC — Editor )