The recent death of Bollywood actor Sushant Singh Rajput triggered a myriad of responses including those which speculated the reason behind his suicide. Celebrities and politicians alike flocked to social media to pour out their condolences.
One such tweet which grabbed our attention was the tweet by Rahul Gandhi, leader of of the Indian National Congress, that was going viral on social media platforms. The alleged tweet by Gandhi called Sushant Singh Rajput a cricketer in the text. Rajput, who played the role of cricketer Mahendra Singh Dhoni in his biopic, is not a cricketer but an actor. See the image being circulated on WhatsApp: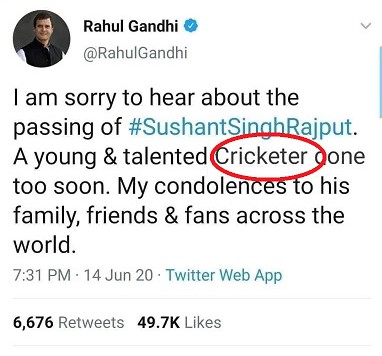 The message shown below and attributed to Rahul Gandhi reads: "I am sorry to hear about the passing of #SushantSinghRajput. A young & talented cricketer, gone too soon. My condolences to his family, friends & fans across the world."
Fact Check: 
DigitEye India took it up for fact-checking as the Congress leader was a target of such tweaked messages in the past. The time stamp on the tweet which claimed Rajput as a cricketer was of "7:31 PM 14 Jun 20."
We looked up Rahul Gandhi's Twitter account and found that he did share a tweet on June 14, 2020, at 7:31 PM but the text was different. He tweeted, "I am sorry to hear about the passing of #SushantSinghRajput. A young & talented actor, gone too soon. My condolences to his family, friends & fans across the world."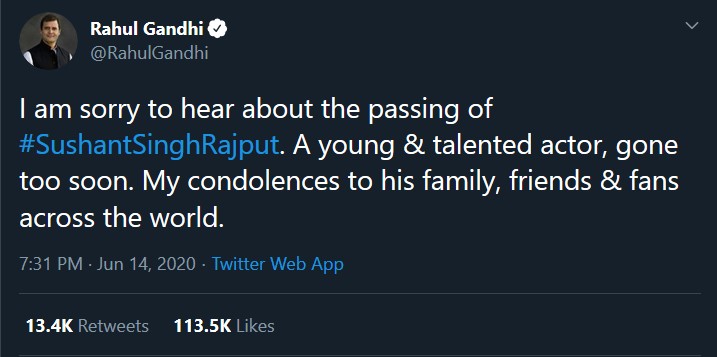 On a closer look, we found that the word "cricketer" has been photoshopped and placed on top of "actor" which is clearly evident by the shadows produced by the poor placing of the photoshopped text. The purported photoshopped message by Rahul Gandhi was intentionally shared on social media.
On Opening Schools
This is not the first time Gandhi has been made a target for fake news peddlers. Earlier in June, a screenshot was widely circulated which allegedly claimed that Rahul Gandhi suggested that "Schools and colleges should reopen from 1st June on odd/even basis. Odd days teachers will come and even days, students will come." It was found false and Facebook has removed it now as shown below: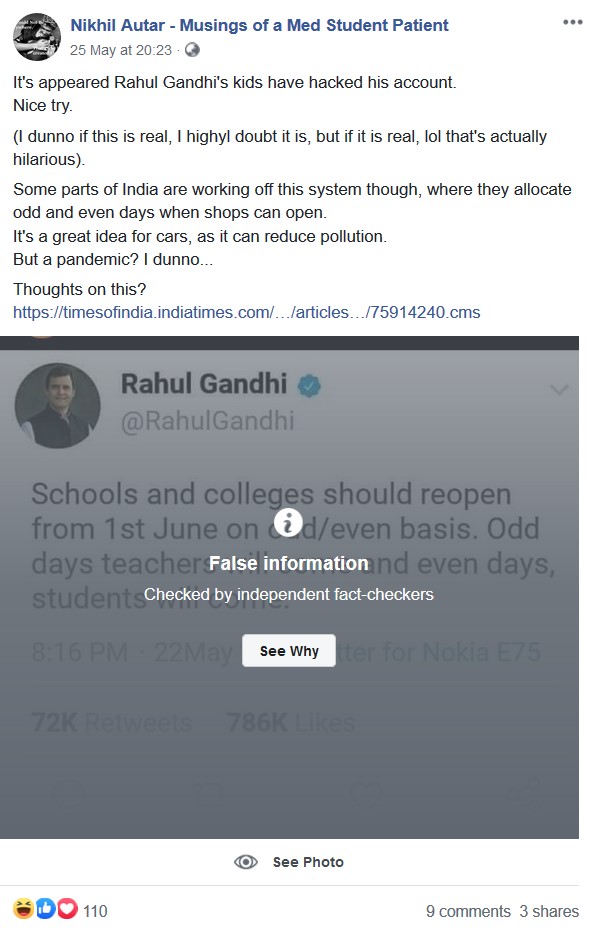 Clearly, there was no such tweet shared by Gandhi on his Twitter profile and a closer inspection of the screenshot shows that the text was not properly left-aligned clearly giving away that it was a poorly morphed image.
Earlier Instances
Similarly, in 2019, an image of Rahul Gandhi eating with Pakistan PM Imran Khan was widely circulated with a claim that Gandhi was having biryani with Khan. See the image below: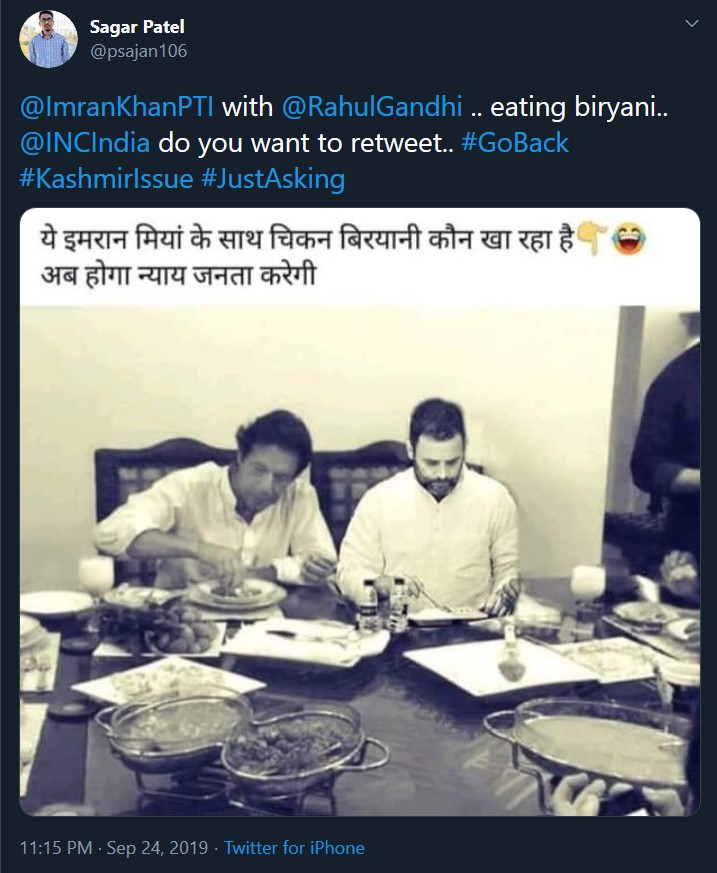 It showed tell-tale signs of a morphed image. The first giveaway was how Gandhi was in a brighter, more contrasted and saturated tone in the image. A picture has even lighting on all its subjects.
Secondly, a closer look at Gandhi's left hand in the image showed one more hand which is anatomically not possible. A Google Reverse Image Search brought us to a 2015 image of Khan having sehri with his wife. It is on this image that an old image of Rahul Gandhi has been juxtaposed.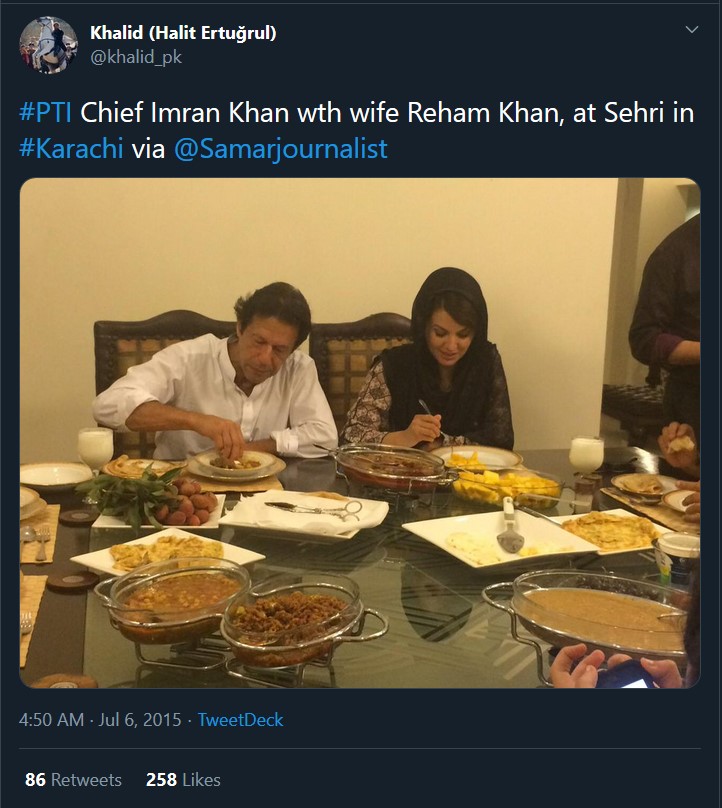 Rahul Gandhi on Petrol Prices
In 2018, amid the rise in petrol prices, Bharatiya Janta Party politician and veteran actor Paresh Rawal tweeted an image by Rahul Gandhi which allegedly claimed that petrol prices have "gone up to 80 rupees per kg." As petrol is available in litres, this was aimed at mocking the Congress leader.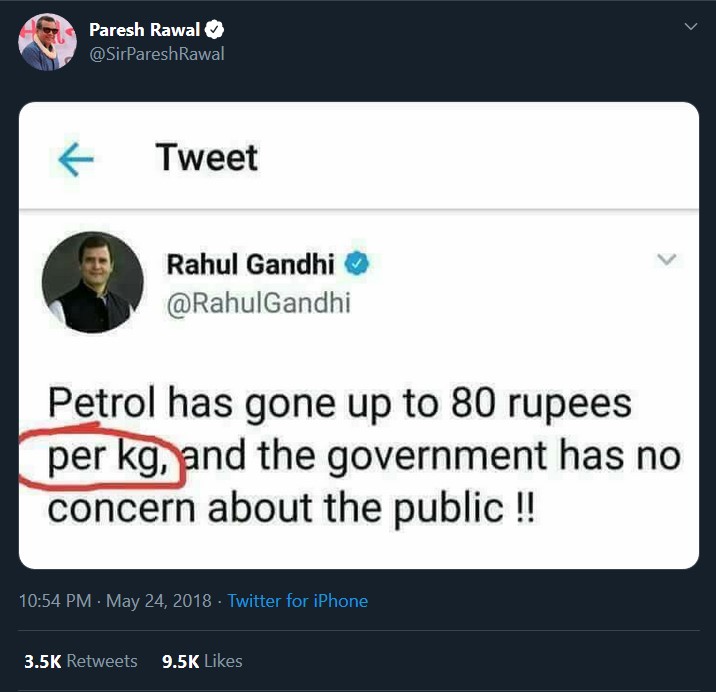 Despite many netizens pointing out that it was a photoshopped image, the actor has not taken it down yet. The image which Rawal posted on Twitter showed a lot of grey space and shadows around the name of Rahul Gandhi in the image which usually do not appear so when an original tweet is taken as a screenshot. An advanced Twitter search revealed that no such tweet was put out by Gandhi between May 2018 to June 2018.
Conclusion:
Like most examples cited above, the claim that Rahul Gandhi called Sushant Singh Rajput a cricketer arose out of a morphed image. Our rating Totally False.