Quoting a BARC report, major news publishers including the Economic Times had published that BJP is the top TV advertiser. Here's the news item:
But the truth is, as per the BARC list for top 10 brands, BJP is on top of the list with 22,099 insertions, just behind the tenth top advertiser Marico Ltd. that had put out 22,195 insertions. If BJP had put out 100 more insertions, it would have figured in the top 10 advertisers in the country.
See the top 10 brands list sourced from BARC here: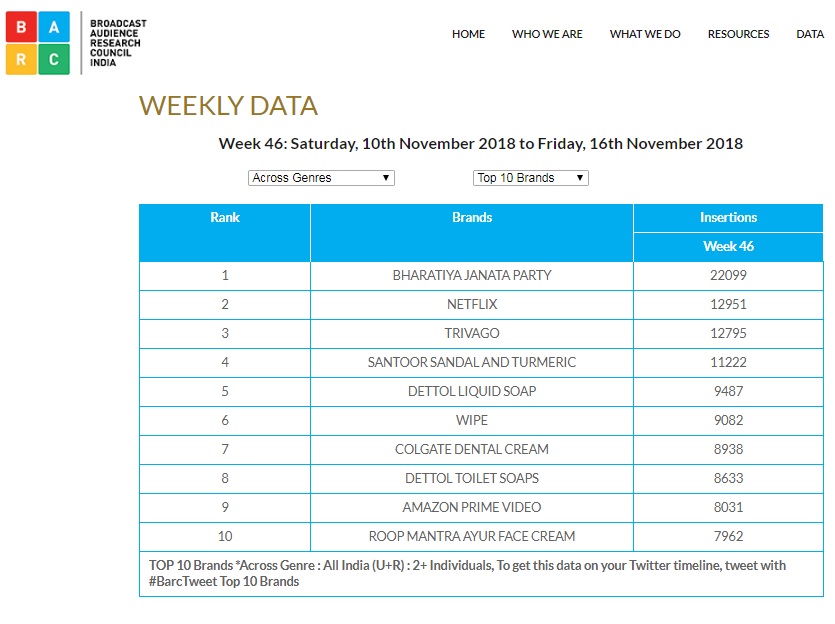 Essentially, BJP has just missed the top 10 rank as a solo advertiser but when it comes to brands, it did top the list of top 10 Brands with maximum insertions on TV channels.  It's almost 9,000 insertions higher than its nearest trailer NetFlix in the list of top 10 brands. This is the first time in Indian history that a political party has replaced FMCG companies to emerge as the top brand.
As it involves huge expenditure on TV ads by a political party, the opposition party Congress has demanded a probe into the issue by the Election Commission.
Conclusion: A factual error owing to two different segments being confused. Our rating for this news is ?? Misinterpretation.
[CORRECTION: This story was revised owing to confusion over the top 10 brands and the top 10 advertisers. We have duly corrected the story – Editor]