In Karnataka, fake religious letters have become common before every elections and one such letter debunked last year by fact checkers has again popped up blaming Congress leader Sonia Gandhi.
The letter allegedly written by Karnataka Congress leader MB Patil to Sonia Gandhi way back in July 2017 has made it to Twitter this year by the Karnataka unit of Bharatiya Janata Party, claiming that they are exposing the divide-and-rule policy of the Congress to create differences within the Hindu community in the state. It may be noted that in Karnataka, a separate status for the Lingayat community was acceded by the previous Congress-led Siddaramaiah government.
See the tweet below:
Congress exposed

The entire Lingayat & Veerashaiva community division was planted under direct instruction of Sonia Gandhi

The letter written to Sonia Gandhi by Congress leader MB Patil exposes shocking details of how Sonia Gandhi wanted to divide Hindu communities in Karnataka pic.twitter.com/ZC6CpQf1fN

— BJP Karnataka (@BJP4Karnataka) April 16, 2019
Tweeted just two days before the parliamentary elections in Karnataka, the tweet has been shared 2633 times and liked by 3168 people as of April 17, 2019. The 'letter' purportedly written by Karnataka Congress leader MB Patil, who is currently state home minister, was denied by him last year during the Assembly elections in the state and yet it has re-surfaced this year, just two days before the Lok Sabha elections in Karnataka.
The so-called 'Global Christian Council' (GCC) used in the letter was linked to Kerala which is opposed to Save Our Sisters (SOS) that has been protesting against Bishop Franco Mulakkal of Jalandhar in a sexual harrassment case. But, it has been used in letter dated 2017 when the Council was not active.
Secondly, the World Islamic Organisation mentioned in the letter has its facebook page devoted to Islamic religious messages but was never heard of, in Karnataka, let alone participating in Lingayat conference as claimed in the fake letter in the name of MB Patil, who has denied this repeatedly and here's his latest denial:
This letter is FAKE

I will be initiating legal action for forgery against those who produced and published it.

BJP's desperation is evident. They are wholly relying on fake letters because they have lost the support of people. pic.twitter.com/yrPRHGTVcW

— M B Patil (@MBPatil) April 16, 2019

Earlier too, On May 11, 2018, when the fake letter appeared in local and social media, MB Patil's local Vijayapura Congress party unit had denied it as seen below:
@ceo_karnataka @narendramodi @rajeevgowda @siddaramaiah complaint copy on fake news and created documents circulated by @postcard_news and @mvmeet to defame @reachmbp , a day before election. pic.twitter.com/guYlg2DNPr

— Vijayapura Congress (@INCVijayapura) May 11, 2018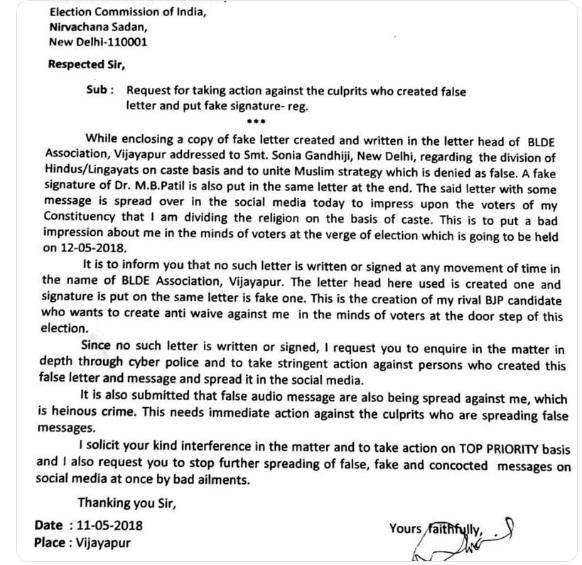 Conclusion: Since the religious divide allegation is sensitive in Karnataka politics, the fake letter has remained a pre-election weapon to create confusion in the minds of local people and has been used and re-used by opponents of MB Patil, despite his repeated denials and appeals for probe. Our rating of this claim is ????? Totally False.