Kerala politics witnessed an intense storm recently when BJP leader KP Sasikala (teacher) was arrested during her journey to Sabarimala. After a day-long hartal, Sasikala obtained bail, and she successfully reached Sannidhanam with her grandchildren and relatives.
As per Sabarimala tradition, women between the age of 10 to 50 are barred inside the temple, though this unwritten rule was recently dismissed by a Supreme court verdict. But a section of left front supporters alleged that KP Sasikala has broken the customs and traditions of Sabarimala temple stating that she is just 49 years old. See the image of a Facebook post below: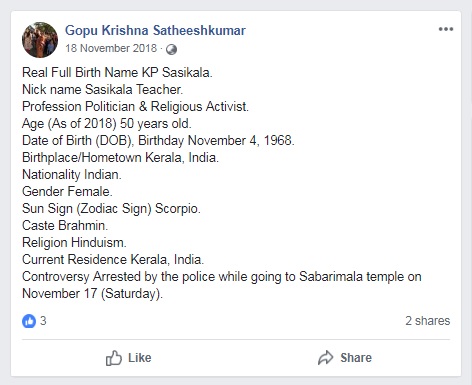 BJP is in the forefront agitating against the Supreme Court verdict. Soon after Sasikala's entry, several social media users vigorously shared posts on Facebook and Twitter saying that Sasikala, a strong proponent of Hindutwa, has actually shattered the custom by entering the temple before the age of 50. They argued that Sasikala was actually born on November 4, 1968, which measn she is 49 years old.
As the news regarding Sasikala's age spread like wildfire on social media platforms, Sasikala herself revealed that her actual age is 55. "My mother who delivered me states that my date of birth is on May 23, 1963. But comrades claim that I was born in 1968," wrote Sasikala on her Facebook page.
A year ago, Sasikala had given an interview to Reporter TV, and during that talk, Sasikala revealed that she has been working as a teacher for the past 36 years. If the words of left front supporters are right, then Sasikala would have started her career as a teacher at the age of 13, and this is practically impossible. Another evidence of her age is the PAN card of her showing her real age as below: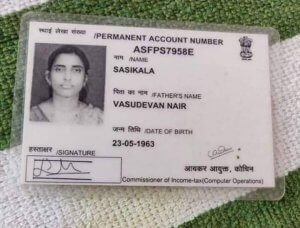 It may be known that the first PAN cards for several years were issued in white with black imprint. The PAN card above clearly shows her age as 1963, reiterating her claim that she is above 50 years of age.
It was on October 28, 2018, that Sasikala took voluntary retirement from service (VRS) as a teacher from Vallappuzha Higher Secondary School. Her actual retirement date was September 30, 2019. In Kerala, the retirement age is 56, and this factor itself indicates that Sasikala is above the age of 50.
Conclusion: The row over the age of Sasikala, a former teacher and BJP leader is false and our rating for this news is ????? (Totally False).