Amid massive misinformation about the Coronavirus pandemic, here is one claim that is attributed to a representative of the World health Organization.  The post (below) has two images — the one on left says, "As long as people eat meat, there is going to be some risk of infection." It has been attributed to Dr. Gauden Galea, W.H.O. Representative.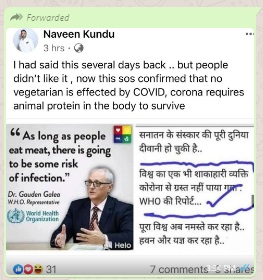 The image on the right says in Hindi:
"सनातन के संस्कार की पूरी दुनिया दीवानी हो चुकी है…
विश्व के एक भी शाकाहारी व्यक्ति कोरोना से ग्रस्त नहीं पाया गया. WHO की रिपोर्ट…
पूरा विश्व अब नमस्ते कर रहा है..
हवन और यज्ञ कर रहा है…"
[Translation: The world is a fan of traditional values. According to a WHO report, no vegetarian person has contracted corona virus. The whole world has resolved to the practice of 'namaste', and offering prayers in front of a fire by 'yajna'].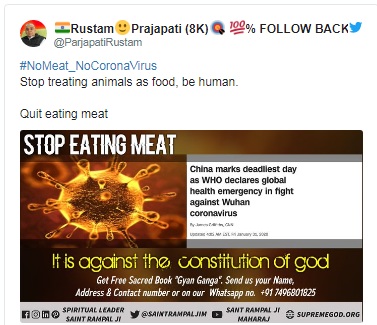 The post has been going viral on Facebook, Twitter and on Instagram as well. The post claims that there are zero cases of vegetarians having contracted the strain of coronavirus as per an alleged WHO report (claim in Hindi). It says how the world is finally leaning towards sanatan dharm (Hindu religious tenets).
Fact Check:
Digiteye India checked whether WHO did have a representative named as such. Indeed Gauden Galea is a WHO representative in China. Previously, he was Director of the Division of Noncommunicable Diseases (NCDs) and Promoting Health through the Life-course of the European Regional Office of WHO.
As per the WHO, COVID-19 spreads between people through coughs and sneezes, making it an extremely contagious infection. It's asymptomatic and the virus is believed to travel in the saliva and even through the water in the eyes. Therefore, close contact, kissing, and sharing cutlery or utensils should be avoided. Initially, it was believed to be catching up from a live animal market in Wuhan city but by January 15, China has declared that it's spreading from person to person and WHO has declared it a pandemic a month later.
Then we looked into the videos posted on Facebook and Instagram with Galea's quote. Clearly, the quotes were taken out of context and it was very evident. However in the Facebook post, one user asked for the source of the video. The page admin gave a link to a report carried out by CNN. The video was under the head 'This may explain the spread of China's new virus'.
The CNN report talks about how wet markets, and the consumption of wild animals has been made illegal in China post the coronavirus outbreak. The video posted contains a clip of Galea saying "…there will always be the danger of spillover. As long as people eat meat, there is going to be some risk of infection," (at 2:49 in video).
CNN made it clear that these footages were taken from "Hong Kong broadcaster i-CABLE, filmed on the 6th and 7th of January as the new strain was discovered" and that it has not been independently verified by them.
Given the context, Galea made that statement with the consumption of wild animals and not livestock. Coming to the claim that non-vegetarian food has links to coronavirus, the Food Safety and Standards Authority of India issued a press release which stated how the virus has no links to non-veg food items. Similarly, the Economic Times carried a report where AIIMS director, Randeep Guleria, refutes this claim and says "As common healthcare precaution, all kinds of meat should be thoroughly washed and properly cooked".
Conclusion:
Just like other claims which said that hot water, tea or garlic can contain the virus, this claim too is an example of misrepresentation of facts. Our rating is ?? — Misinterpretation.