As the farmers' protest in and around the borders of the national capital Delhi demanding the repeal of the contentious Farm Laws, several misguiding claims have surfaced on social media. One such picture in black and white with protesters killed on a road has caught the attention of many as its claim stated that 300 rounds of bullets were shot at protesting farmers during Congress rule in 1998 which took lives of 27 farmers.
— DSV (@101DSV) December 21, 2020
In Hindi, the test read:'12 जनवरी 1998….. कांग्रेस राज में भी किसानों ने अपनी दयनीय स्थिति को लेकर एक आंदोलन शुरू किया था सिर्फ 300 गोलियां चलीं, 27 किसानों की मौत हुई और आंदोलन खत्म हो गया था'[Translation:'12 January 1998… Even during the Congress rule, farmers started an agitation over their sordid situation, only 300 bullets were fired, 27 farmers died and the movement put to an end.]
The same picture was shared here on Twitter. It was shared on Facebook too.
FACT CHECK
Digiteye India took up the social media post for fact-check due to its viral share on Twitter. A Google Reverse Image search took us to a blog posted on July 28, 2007, where the picture was used in colour. See the blog post here: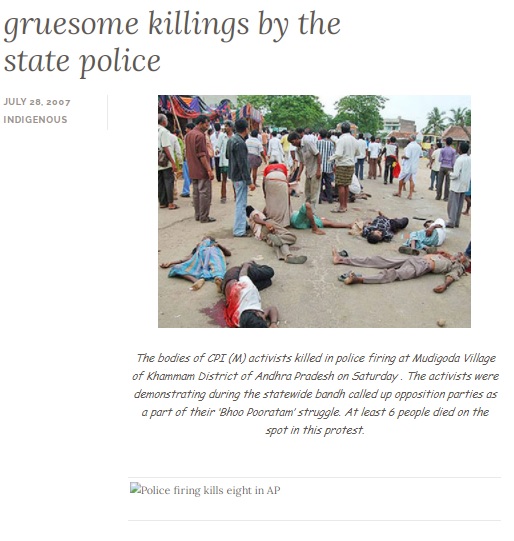 The caption of the picture read, "The bodies of CPI (M) activists killed in police firing at Mudigoda Village of Khammam District of Andhra Pradesh on Saturday. The activists were demonstrating during the statewide bandh called up opposition parties as a part of their 'Bhoo Pooratam' [Translation: struggle for land] struggle. At least 6 people died on the spot in this protest."
Since, it was a news item, a search on Google Search revealed the following results: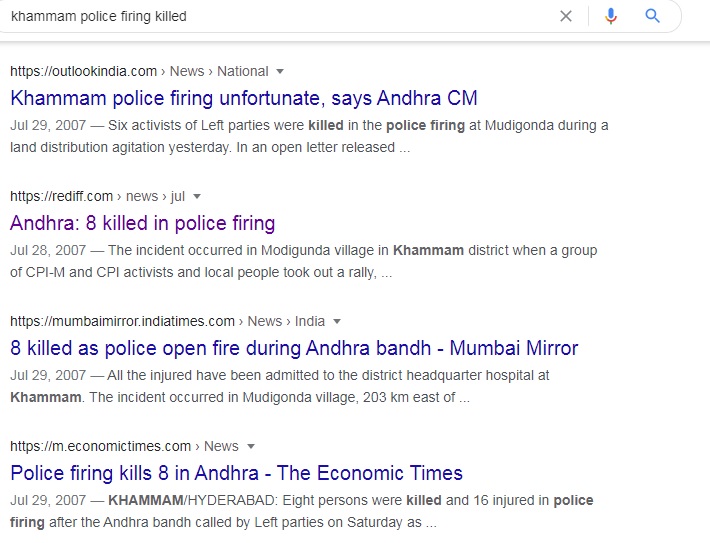 The actual news Vs the claim
A report in Rediff dated dated July 28, 2007 read, 'Police firing kills 8 in Andhra'. It said eight activists of Left parties were killed and 16 injured in police firing at Mudigoda during their 'land for the landless poor' agitation.
The newly surfaced claim has three components:
1. Farmers were killed even in Congress rule in 1998. The truth is that the picture belongs to 2007 when left parties held a protest and eight activists were killed.
2. The year 1998 mentioned in the claim was also deliberately tweaked as it was in 2007, as per the visual.
3. The protest was by left activists seeking land "Bhoo Poratam" and seven were killed and not 27 as claimed in the message.
Claim: During the Congress rule, 27 farmers were killed on Jan 12, 1998.
Conclusion: False claim as the image was made into black and white from July 28, 2007 Khammam firing incident in which 8 Left activists were killed in police firing.
Our rating Misinterpretation —