Several social media posts citing that NASA has confirmed that the Earth will be in complete darkness for six days in December, a frequently surfacing claim on the social media . These social media claims give a hyperlink to an article stating the same. Videos are also in circulation on the same topic.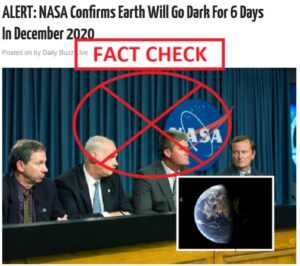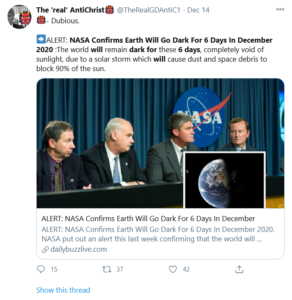 Fact Check: 
The article which is embedded in almost all social media posts on the topic states that NASA "has put an alert". The article claims that NASA has confirmed "that the world will experience total darkness between December 16 – December 22, 2020." The article, then, puts out a snippet of a video by NASA Director Charles Bolden who spoke about "emergency preparedness".
The National Aeronautics and Space Administration (NASA) is an independent agency under the US Federal Government responsible for space research and aeronautics. The current administrator/director of NASA is not Charles Bolden as the article claims. The current administrator is James F Bridenstine, as stated clearly by NASA on its website. Bridenstine has been holding office since April 23, 2018. Bolden was the former administrator who held office from July 2009 to January 2017.
In the video snippet posted along, Bolden never confirms the issue. He talks about being prepared for emergencies. A frame-by-frame search of the video using inVID revealed that the video dates back to 2013. The original video was posted by NASA on their YouTube channel where Bolden spoke about family preparedness.
Every September, the United States celebrates the National Preparedness Month which encourages and reminds American citizens to be prepared for disasters or emergencies.
In the 2:36 minutes long video, Bolden speaks about a FEMA exercise: the Eagle Horizon. The Eagle Horizon is "a mandatory, annual, integrated continuity exercise for all federal executive branch departments and agencies (D/As), as required by National Continuity Policy." These exercises are steps to ensure the preservation and smooth functioning of the government. "Eagle Horizon has demonstrated the ability for D/As to recover from and respond to scenarios such as hurricanes, improvised nuclear device detonations, earthquakes and cyber-attacks… in less than optimal conditions while maintaining mission essential functions, states the Federal Emergency Management Agency.
Bolden requests the citizens to be prepared for unforeseen circumstances, be it a hurricane or an attack from external forces. He urges people to keep an emergency supply kit ready and be prepared within the family by effective communication. Nowhere in the video, he talks about the Earth being enveloped in darkness or the absence of sunlight.
NASA has already pointed out this and has called it fake.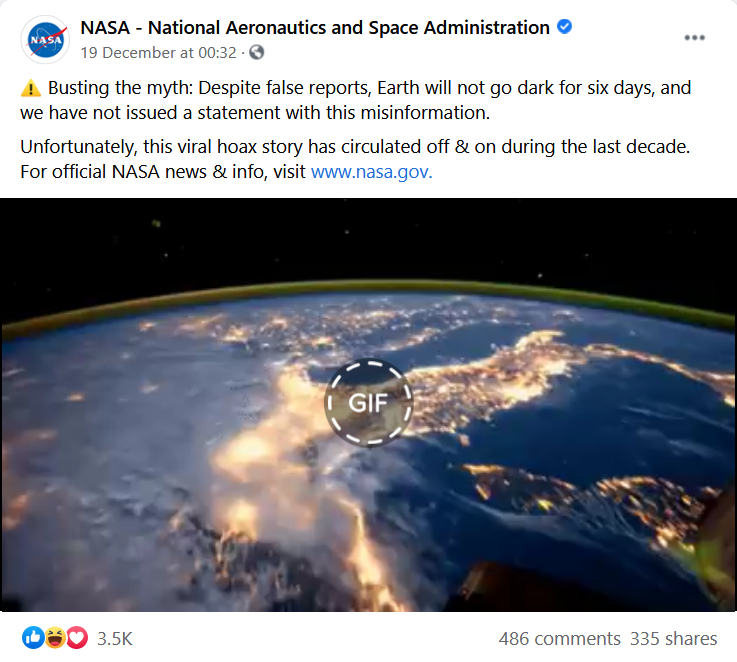 Conclusion:
Our rating is

– Totally False.