Recently a photo allegedly depicting the police attack on women in Jammu and Kashmir has started making rounds on social media on the occasion of the central government amending Article 370 and declaring Jammu and Kashmir and Union Territories as Union Territories.
Indian State terrorism in #Kashmir. Cruelty at its peak. pic.twitter.com/jlomtgi1rN

— Ijaz Ul Haq (@ijazulhaq) September 1, 2016
The caption said India's terrorism in Kashmir has reached its climax. It was picked up by Pakistani national security analyst Jameed Hamid on Twitter asking Pakistani Prime Minister Imran Khan to tell Indian PM Narendra Modi to stop such acts. It has been widely shared as an evidence of the current situation in Kashmir. See the image and caption here: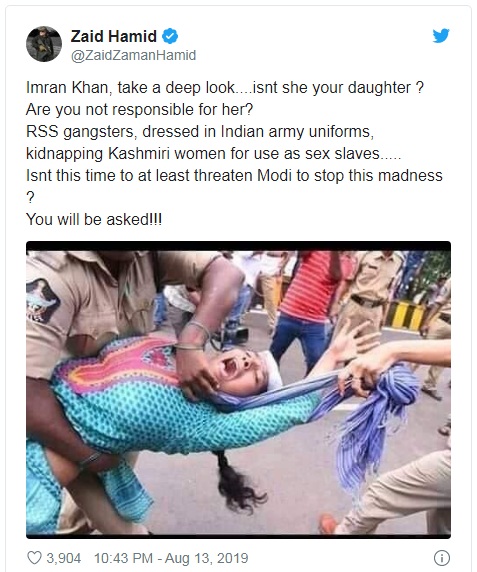 However, Google reverse image has shown that the picture was not of Kashmir protester but that of a communist activist who was being removed by Andhra Pradesh police. The actual protest was held by the student wing of CPM, that is the Student Federation of India (SFI), who were on hunger strike over the closure social welfare hostels in Vijayawada on July 26, 2016 and it was posted by the CPI (M) on its official Twitter.
Moreover, at the first glance one familiar with the AP police badge can make out the difference between the J&K police badge and AP police badge on shoulder. Here is a comparative display of these badges:
So, the picture was wrongly used to misinform people. The claim is rated under Totally False (?????).