A picture of Congress Party leader Priyanka Gandhi Vadra in a temple is going viral. The claims surrounding the picture state that her visit to a temple allegedly in Bihar is to woo voters for the upcoming elections in the state.
All the posts have the same picture and the same caption. As the Election Commission has scheduled the elections for Bihar Assembly to be held from Oct 28 to Nov 11, 2020, this message started making rounds in social media.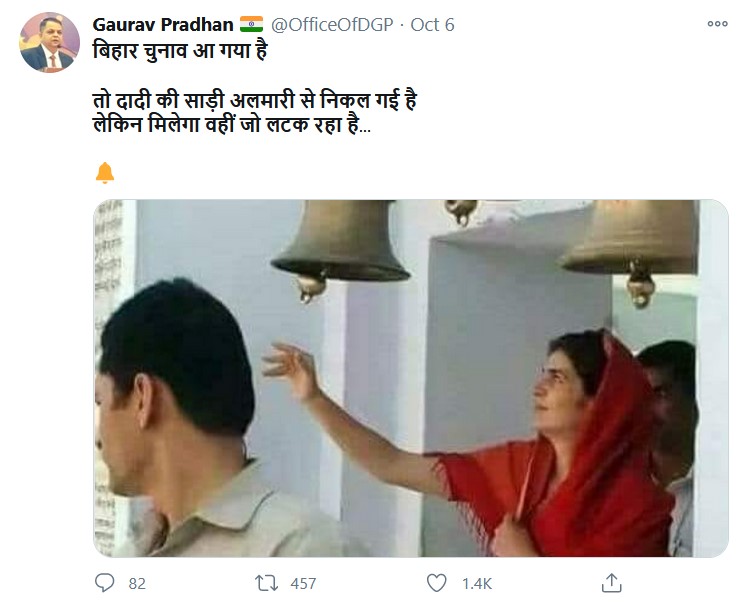 The picture features her in a red saree. The caption reads "बिहार चुनाव आ गया है तो दादी की साड़ी अलमारी से निकल गई है लेकिन मिलेगा वहीं जो लटक रहा है" which roughly translates to grandmother's saree is out of the cupboard as Bihar elections have come, but she will get nothing. It alleges that the granddaughter of late former Prime Minister Indira Gandhi has taken out her grandma's saree to impress voters.
Fact Check:
There are no other images from her alleged trip to a temple in Bihar. All the pictures are the same along with the same security persons in it. A simple Reverse Image search on Google landed us with numerous  articles featuring the same picture. We also found that the same picture with the same caption was posted on Facebook in 2018.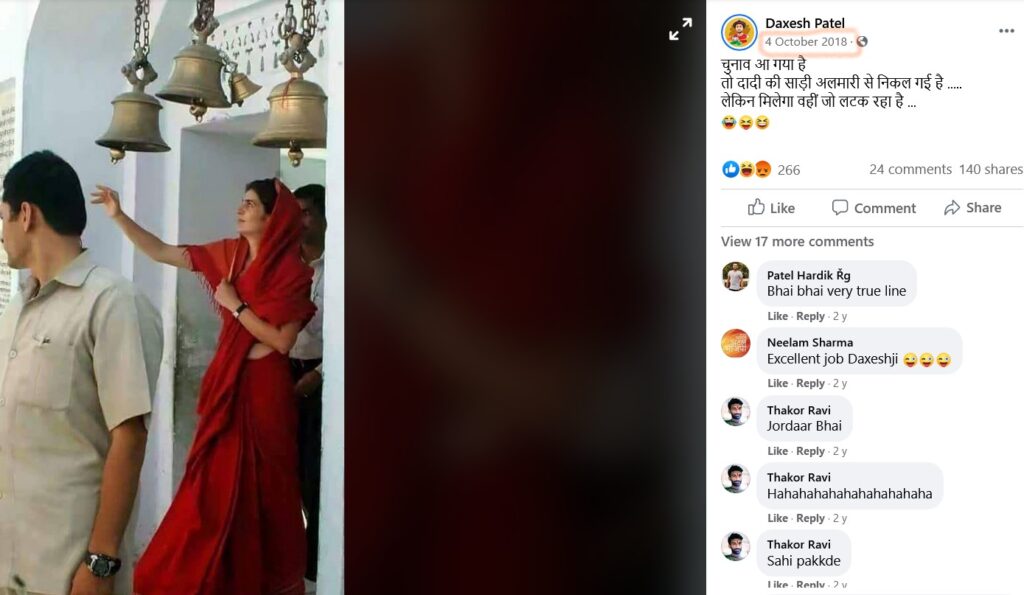 The picture was clicked by a PTI photographer, Atul Yadav, and the caption stated how the image was from Amethi, Uttar Pradesh. The Pioneer in their 2013 article had used the same picture. Outlook India had posted the same picture of Priyanka Gandhi in 2010 in one of their listicles.
Our further reverse image search on Yandex using the two images landed us in a page on Flickr, an image hosting and video hosting online community. The page showed us the same picture taken on April 12, 2009. Uploaded by Pressbrief, the caption read "Priyanka gandhi at Durga temple during the election campaign for her brother Rahul Gandhi in Amethi on Sunday". The post also had other pictures of Priyanka Gandhi from her temple visit in Amethi which Outlook and Pioneer had used.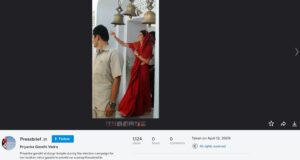 Pressbrief.in is a website with several videos, audios and rare photographs featuring Nehru-Gandhi family, dating back to the speeches of Jawaharlal Nehru to the present day with Rahul Gandhi.
Claim: Ahead of Bihar elections, Congress leader Priyanka Gandhi is wearing a saree and visiting temples.
Conclusion:
False. Images from 2009 are being shared in a false context. Amethi was Rahul Gandhi's parliamentary constituency in 2009 and his sister Priyanka Gandhi had visited the temple there ahead of the 2009 Lok Sabha elections. Our rating of the claim is

— Misrepresentation.