A WhatsApp message is making the rounds since the morning of Tuesday, April 21,  stating that there was a webinar held by the IMF and Raghuram Rajan, former RBI governor. It has shown points from showing how Indian economy will take the shape once the coronavirus is contained. Here's the WhatsApp message: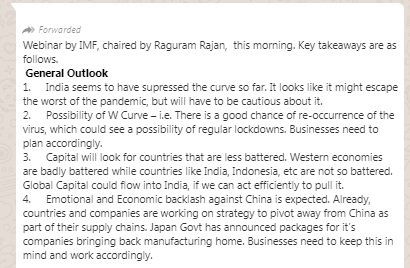 The so-called takeaway points clearly point out resurgence of India after containing coronavirus. It has listed elaborately under several sub-heads ranging from capital infusion to future social lifestyle and work from home norms. Owing to its elaborate coverage and attribution to International Monetary Fund and Dr Raghuram Rajan, former Reserve bank of India (RBI) governor, it has taken wider discussion format on WhatsApp.

Fact Check:
When Digiteye India found certain anomalies in the document, the search on IMF official website showed no mention of any such webinar held on April 21 or even before under the aegis of Dr Raghuram Rajan.
In his LinkedIn post, Raghuram Rajan on Tuesday, April 21, refuted reports that he chaired any webinar purportedly from an IMF session and rejected the claim as fake news. "A webinar, purportedly from an IMF session that I am supposed to have chaired, is circulating among Indian WhatsApp groups. I have not participated in any such webinar. I am afraid in this age of fake news it is hard to respond to every such occurrence. I can only say that I post all my relevant public statements on this site only," Raghuram Rajan said.

Conclusion: The so-called IMF webinar and takeaway points are falsely attributed to one chaired by Raghuram Rajan, to mislead people on India's future economy amid coronavirus problems. Our rating is ??? Misrepresentation.