Some images being shared on social media showed a leopard on prowl with a set of photographs showing the victims in ghastly photos with injuries purportedly inflicted by the wild animal while they were travelling on a bike from Shamshabad to Srisailam, which is mostly a ghat road. The photographs show a wandering leopard and scared people on a tree.
#srisailam Be careful when driving bike in ghat road https://t.co/JrDg5Pdn1f

— Kiran Varma (@kiranvarma21) August 24, 2020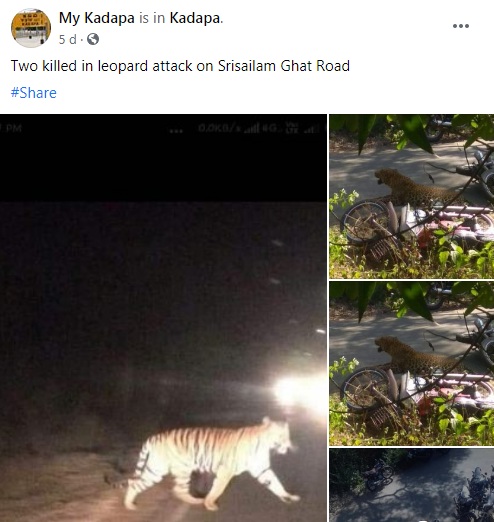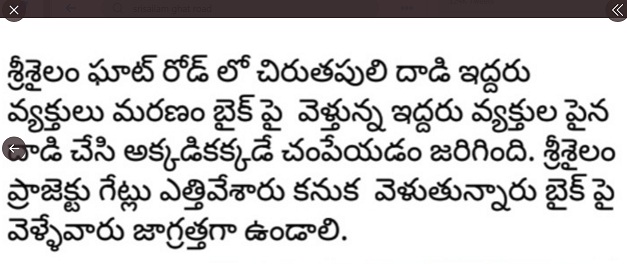 The text in Telugu reads: "Two persons travelling on bike killed on Srisailam Ghat Road by a leopard. Those going bikes should take care."
FACT CHECK
A simple Google reverse image search by our team threw up results of an article published by Sakal news on 11 December, 2018, which carried similar photos about the incident that took place near Khadpoli MIDC in Chiplur, Maharastra. Two persons were injured in a leopard attack when forest officials tried to trap the leopard in a cage. Another report in 'Jai Maharashtra News' showed a video on the incident which is uploaded on YouTube.
Spotting leopard on Srisailam Ghat Road in Kurnool district of Andhra Pradesh surrounded by Nallamala forests has been reported several times. See the news clip from TV9 Telugu aired on Jan 13, 2020:
Leopard spotted on #Srisailam Ghat Road – TV9https://t.co/YbGTuzcgGz

— TV9 Telugu (@TV9Telugu) January 13, 2020
The incident was an old one and not related to Srisailam Ghat Road in August 2020 as claimed in the social media message.
Conclusion: Old images used with a false claim. Our rating is Totally False.