Popular posts on social media claim that Kangana Ranaut has shared autopsy report of Sridevi which reveal shocking details. The said autopsy report is allegedly issued by the Ministry of Health and Prevention of the United Arab Emirates, dated February 26, 2018.
The report states how traces of "cocane and lime juice with whiskey traces" have been found along with "three injuries"- on the head, near palm veins, and diaphragm. Ranaut has been under the limelight ever since she spoke vocally on the issue of nepotism and other issues post-Sushant Singh Rajput's death.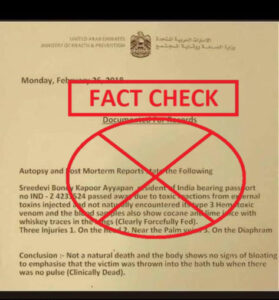 Fact Check: 
The autopsy report was featuring the logo of the local Ministry of Health and Prevention but it has certain giveaways which establish its discrepancies. Autopsy reports are generally not published in a letter format. These reports have description boxes where findings from the autopsy are stated. The alleged report has many errors in its syntax which expose its dubious nature and examples include the syntax in which the date is written, the illogical capitalization of letters. The lack of any official stamp or signature on the report making its credibility questionable.
We also checked the Twitter account of Kangana Ranaut and found that she had made zero tweets regarding this between the time period of February 2018 to April 2018.
Sridevi passed away on February 24, 2018, aged 54. The extreme sensationalisation of her death brought forth several theories such as cardiac arrest, and even poisoning. These theories were put to rest when the Government of Dubai tweeted, "death of Indian actress Sridevi occurred due to drowning in her hotel apartment's bathtub following loss of consciousness".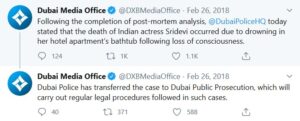 In one of its reports, Gulf News published the embalming certificate. It also reported that "traces of alcohol" were found in the body. According to the certificate issued by the Dubai Health Authority, the cause of death had been cited as accidental drowning.
BBC India had also tweeted the same and had attached the embalming certificate along with the death certificate.
Embalming took place to slow down the degeneration process so that the body could be transferred from Dubai to India to perform the final rites.
Khaleej Times reported that her death was purely accidental as post-mortem and laboratory test reports showed that she was inebriated at the time of her death. She slipped, lost consciousness and fell into a bathtub full of water, according to the local police. Moreover, all the three documents had the official stamps and signatures in place.
 Conclusion:
Our rating is

– Totally False.