A set of images highlighting the poor road conditions allegedly in Uttar Pradesh is doing rounds. In one of the images, a man in a t-shirt is seen sitting cross-legged in a pothole. In another image of the same series, he is seen sitting with a fishing rod at a waterlogged pothole.
The face of the man is hidden under the helmet. Various public figures have shared the image, each calling it from a different part of India. In one such viral tweet, a media panelist of the INC has called it an image from Uttar Pradesh. A news website, Uday Bulletin, also published the same images stating that it is from Orai, Uttar Pradesh. Some netizens also claimed the images to be from Chhattisgarh.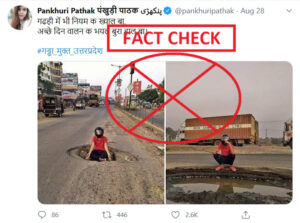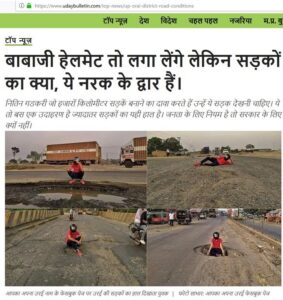 Fact Check:
We conducted a reverse image search to look for the same picture in a better resolution to gauge the surroundings. The images have been doing rounds since 2019. We found the two images along with others in a blog post posted on October 14, 2019.
The blogpost only mentions that they are from West Bengal. In one of the better resolution pictures, the background poster has text written in Bengali, and the number-plates have the state code WB on them, which confirms that it is from West Bengal.
We reverse searched all the six images which then led us to photo series by a person named Sangeet Roy. These images were posted on October 13, 2019. The photos had been clicked en route Mangalbari Bridge to Sudhani Mor. They have been shot at Malda, West Bengal.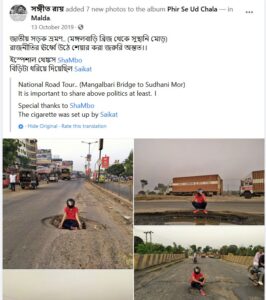 A report by Bartaman Patrika, a Bengali newspaper sheds more light on the same. A part of the road from Mangalbari to Mahananda Bridge has collapsed and the district residents claimed that the bridge was also in a dilapidated condition. The municipality had repeatedly appealed to the National Roads Authority for the renovation of the old bridge, but no action had been taken.
Speaking to the Bengali daily, Sangeet Roy said,"I have to cross that bridge every day. Seeing the dilapidated condition of the bridge, it seemed that something should be done to draw the attention of the administration. So I took such pictures and posted them on social media."
UPDATE: We got in touch with Sangeet Roy who told us how the dilapidated condition of the road "made it next to impossible to drive on them". He wanted to highlight the conditions of his city and his pictures have "nothing to deal with Uttar Pradesh" or any political parties. He confirmed that these images were an year old and was shot on NH-34 which marks the start of Malda city (now called NH-12), Mahananda Bridge, Susthani Mor and other parts of Malda.

Conclusion:
Our rating

– Misinterpretation.